It was exactly one year ago today that our world turned upside down and the things we believed to be true, took a somersault into the absurd.
On Sunday 15 March 2020 the French government took the extraordinary decision to order the ski lifts to stop, and resorts to send holiday-makers home, just one day after the majority of them had arrived. Nobody could quite believe it. We knew the virus was circulating in Europe and the rumour mill was on overdrive about cases in resort, but back then nobody would have believed that planes would be grounded for months, borders would close and the majority of Europeans would be confined to their homes.
Of course that's all become commonplace these days but let's track back and take a look at how the year has evolved, its ups and downs, how we've adapted our offer to keep a core of instructors working and holiday-makers happy, and ultimately where it has left us, one year down the line.
The Shock
With hundreds of clients, 250 or so instructors and 80 staff, we had a task on our hands to communicate the situation to all concerned. Clients who hadn't seen the announcement on Saturday evening turned up at the meeting points for their lessons only for us to let them know that the lifts were closed. Staff rushed around closing up the shops and offices, packing up their computers to take home. Our instructors had a choice to make whether to stay in their temporary winter accommodation in resort or head back to their home town / summer job lodgings. The majority left, choosing to spend confinement with their families.
The Uncertainty
In the week after, there was much uncertainty about what the abrupt end to the season would mean for the business and where we stood in terms of our clients who had booked lessons we were unable to provide.
A government ruling designed to save businesses in the tourism sector, who couldn't have foreseen the enforced closure and lockdown, came into force allowing us to provide a credit note to those who had booked in lieu of an immediate refund. This was appreciated by many but caused problems too. When some people were dealing with potential lost income and could see no hope of being able to travel, what use was a credit note for a week of ski lessons in the short term? We were forced to rethink and adapt to the particular circumstances of our clients.
New Hope
We muddled through the spring, and as summer came with news of an eventual vaccine hope rose that ski season 2020-21 would take place after all, even if realistically we knew long-haul travel was still off the agenda. 
We froze our prices and readied ourselves, ordering masks for our staff, government approved buffs for our instructors, hand sanitizer for the shops and adapting our practices ready to welcome clients in the safest way possible.
The Setback
Then came the blow everyone in the industry dreaded. An announcement in late November that ski lifts would not be opening for Christmas. There was outrage amongst the skiing community. After all, what activity could be more COVID-safe than skiing in the outdoors wearing gloves, goggles and buffs?
A Little Christmas Cheer
The Oxygene management team were determined to remain positive in the wake of this news, so we rallied and considered all the options available to us. We decided to open with a limited offer of ski touring, cross-country skiing (in la Plagne) and beginner ski & snowboard lessons that could take place without the lifts. A handful of instructors worked across our resorts during the 2 weeks of the Christmas holidays with a small number of French clients. 
A Sad Start to 2021
Christmas and new year were celebrated in small family gatherings but other than news of the first vaccination in France the start of 2021 didn't give much cause for celebration. Brexit was passed and our valued clients and friends in the UK became metaphorically further away than ever. Borders were once again closed and there was no sign of the ski lifts opening.
A February Holiday Bounce-back
Even without the lifts, expectations that French families would still take their winter break in the mountains were high. With positivity and determination to make something of this 'saison blanche' and buoyed by a nonetheless positive experience with our Christmas clients we put our thinking caps on and put together a more comprehensive programme of activities in our resorts. We created multi-activity programmes for kids, new ski touring itineraries with breakfast or aperitifs at the summit, as well as yoonering sessions and, a new Oxylift service (ski lessons for all levels with an uplift in an Oxygene minibus), snowboard initiation sessions and more.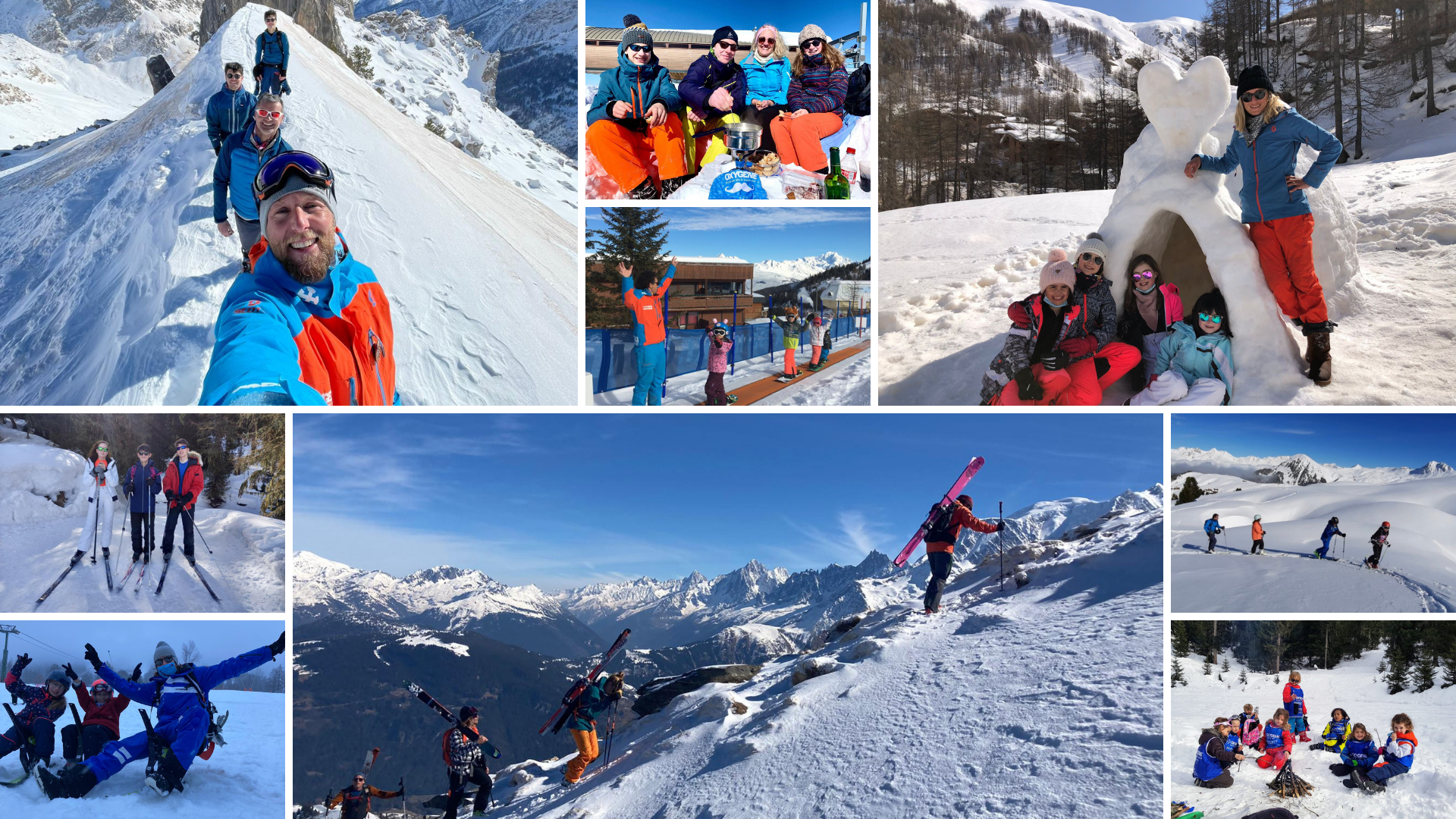 And they came! And we enjoyed a few glorious weeks in the sunshine, teaching, renting out equipment and generally helping the French public enjoy a moment of freedom in the mountains. The teams in resort worked harder than ever, but the rewards were worthwhile and with around a quarter of our instructors working and some fantastic feedback from our clients, a sense of pride and optimism returned to the Oxygene camp.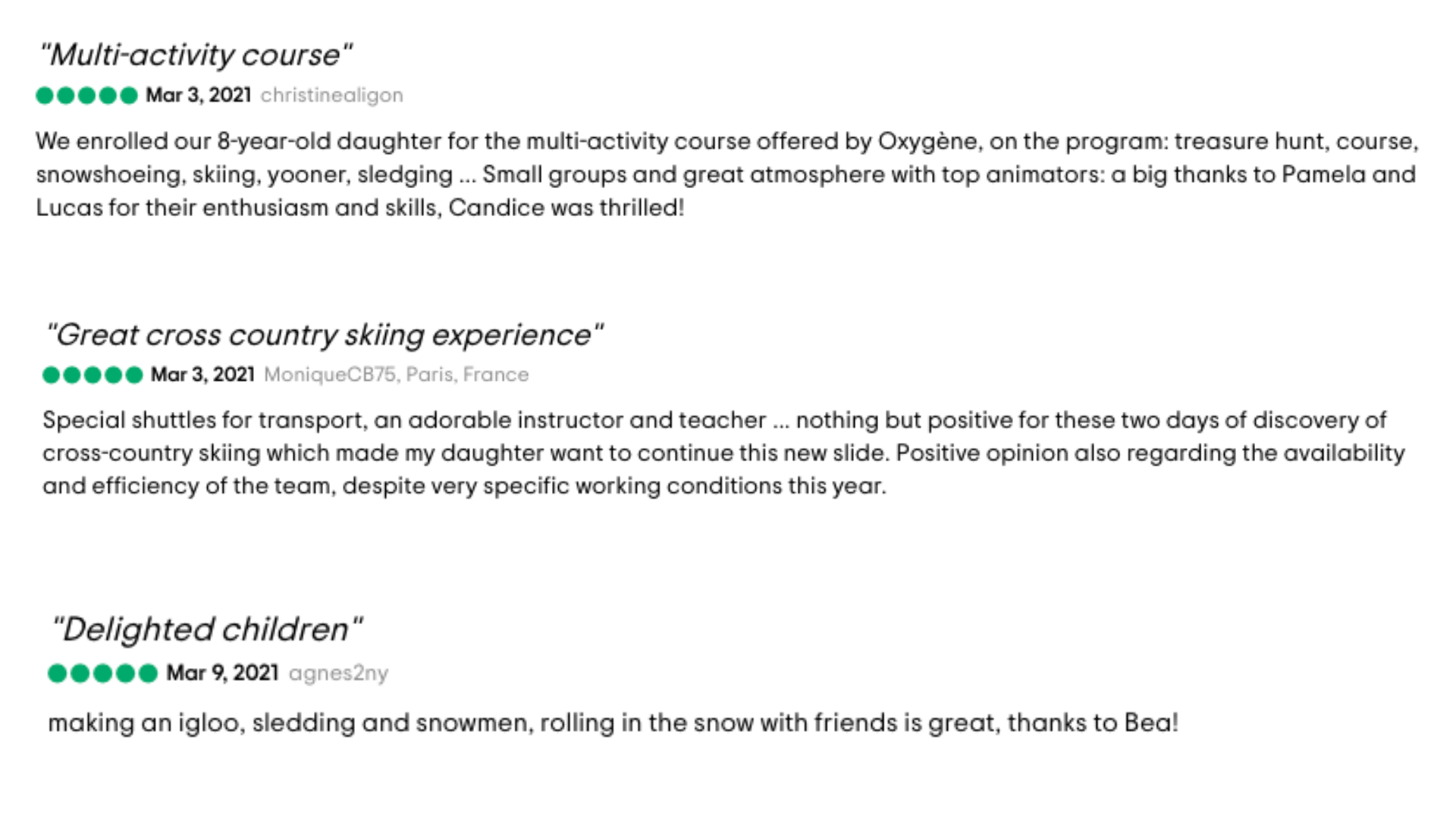 Easter Optimism
None of us know what Easter will hold. It's clear that the ski lifts opening is no longer an option for this season, but as long as we're not in lockdown Oxygene will be out in force come snow or shine helping those lucky enough to be able to travel to resort enjoy it to the max.
Season 2021-22 : Positivity and Growth
And next season? We're optimistic. Despite everything this last year has thrown at us, we've come through and that in itself has built confidence. We've adapted and reinvented and have some new products and services to take forward into next season. The Oxygene family of ski schools is also set to grow. So watch this space because when the world opens up again, Oxygene will be ready to help you make the very best of it, well, on the ski slopes anyway.