Name: Calypso Cesca
Nationality: Italian
Nickname: Caly
Resort: Val d'Isère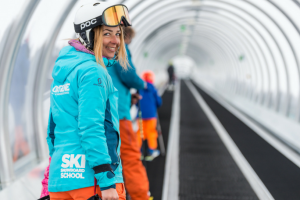 Teaches: Ski
Favourite skis:  Always used Salomon so Salomon I guess – very simple!
Favourite piste in Val d'Isère: The Creux from the top of the Toviere to the Folie Douce! It is very wide and not to steep. I find this type of slope more fun and interesting than just skiing red and black runs!!
Favourite place to ski on days off: It has to be Tignes, I love the variety of slopes and it always seems to be sunny!
Dream ski destination: Canada because I always hear about it and have never been.
Favourite food: Pizza of course – I am Italian!
When did you learn to ski? I learnt to ski from the tender age of 3 years old.
Why did you become a ski instructor? I have skied all my life and did a lot of racing, however I didn't become a real racer so I decided I would like to follow the path of teaching people how to ski.
How long have you been at  Val d'Isère? This is my first season here.
Which is your favorite restaurant in  Val d'Isère? Victors!What's the best thing about your job? I love this job because you can do whatever you like. I am also always outside and its perfect as I get to meet a lot of people…
… and the worst? The worst is when it is really cold and you have to stay outside all day..freezing. After 8 hours the ski boots are not so comfortable any more!
Which are your favourite lessons to teach? Beginner adults and kids because you see them develop the most. They start skiing with you at the beginning of the week and then by the end they are passing you on the slopes.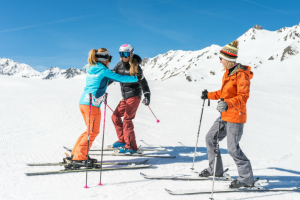 What's your worst memory as a ski instructor? Once I was standing on the slopes and I had to take my skis off for some reason. Suddenly I fell on the bindings and I had the biggest bruise on my bottom for at least a month!
What are your other hobbies besides skiing? Crochet… (its true!)
What do you do in summer? I study foreign languages
Summer or Winter? Winter