For more than 25 years Oxygene has been working to offer you a full and personalised service. In this regard Oxygene has been delivering ski equipment to your holiday accommodation in Val d'Isere for 7 years and in La Plagne for 3 years. This service is a great option for holiday-makers looking for a relaxed start to their ski trip and once you've experienced it you will never want to go back to a ski hire shop. Our delivery service is evolving this season to include Oxyfit, our new ski clothing rental service. Here are 8 great reasons why you should consider renting rather than buying your skiwear…
Oxyfit is PRACTICAL
No need to keep your ski wear gathering dust in your wardrobe all year. No need to fill your suitcases with it for one ski week per year. No need to rush to the first shop in resort to buy an expensive jacket, gloves or goggles. Book your pack online (rent or buy your accessories) and it will be delivered to your accommodation for your arrival.
Oxyfit is ONLINE
It is easy to book your outfit online. Simply choose your preferred style, your size, which resort you will be in and your holiday dates. Click and it will be delivered. Ready to ski?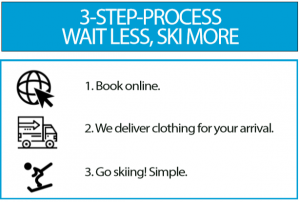 Oxyfit is THERE IN AN EMERGENCY
A forgotten item, lost or delayed baggage on a flight, a split in your ski pants? Who you gonna call ? Oxyfit ! We'll be there to help you out.
Oxyfit is for EVERYBODY
Beginner or expert, our ranges are designed to suit all budgets, all sliding styles, all ages and all levels. The silver range is great for budget conscious skiers or snowboarders, beginners and non-skiers. The gold range will delight intermediates and experts or simply those looking for the best new trends or most technical outerwear.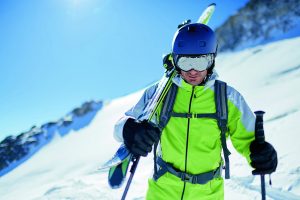 Oxyfit represents STYLE & QUALITY
Our 2018-19 outfits have been selected with care from market leading brands including Scott, Volcom and Dare2B. These brands are known for their quality clothing with waterproofing and breathability ratings amongst the best available. With LegoWear, chosen for the children's range, the game continues onto the pistes. Fun, brightly coloured and great quality, your children will be dry, even after a day on the slopes. No more tears, skiing will be nothing but fun.

 Oxyfit is WITHOUT RISKS
With more than 25 years running ski schools and ski shops, Oxygene is experienced in customer service and knows its clients. Our teams know what you need and how to help you choose the best outfit for your week on the snow. Our 96% excellent rating is proof of our commitment to customer service.
Oxygene is MADE FOR GLOBETROTTERS
Travel as light as a feather and ski equipped like a pro. Let's be honest, it's a lot less hassle getting on your flight just carrying hand luggage. Coming from further afield and planning to do more than just ski on your trip to Europe? No more packing bulky ski wear, simply book your outerwear to arrive at your accommodation and Bob's your uncle!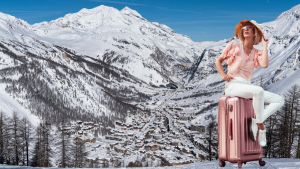 Oxyfit is ECOLOGICAL
Buying a ski outfit every 3 years or even every year for children who grow too quickly and all for one week's wear per year amounts to a waste of materials and energy. Renting rather than buying increases the life of a ski garment and allows you to make the most of up to date styles and the latest ski clothing technology.
Some Oxyfit Statistics:
Save around 400€ on average on a ski outfit

Save around 100€ on average on excess baggage charges

Save time (how much is up to you!)

Reduce your carbon footprint

100% opportunity to be on trend and well equipped for any weather event

0% risk of ending the day soaked through in an outfit that isn't fit for purpose
Order your jacket and pants pack, add any accessories you need (gloves, goggles, neck-warmer, technical base layers) and receive it all in an Oxygene backpack, ideal for you to use on the slopes during your stay. Oxyfit will be available to book from this summer for winter 2018-19 in all of our resorts: La Plagne, Belle Plagne, Val d'Isere, Courchevel, La Tania, Meribel, Val Thorens and Les Menuires.
Ready to test out its simplicity? Contact bookings@oxygene.ski