Product Description
Meet the girls just after lunch Tuesday, Wednesday and Thursday afternoons in Val d'Isère from 14:00 till 17:00.
For ladies, so it's run by ladies. We'll send one of our inspirational female Oxygène instructors to help you dazzle and feel great on the slopes.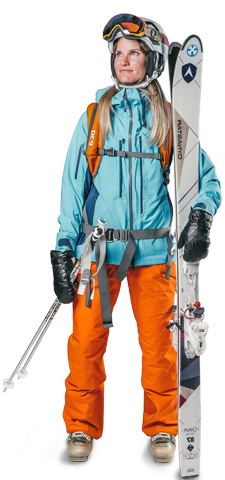 For big progression we keep our Ladies-Only Ski Lessons compact with a maximum cap of 6 per party.
Typically we'll teach in English and French, but our multi-lingual instructors can natter in other tongues too. There's no harm in asking…
3 AFTERNOONS.
Lessons take place Tuesday, Wednesday & Thursday from 14.00 to 17.00.
MADE FOR LADIES.
Taught by a female Oxygène instructor, this is a group just for women!
6 MAX.
Our Ladies-Only Ski Lessons are small allowing for a more personal learning experience.
NO LANGUAGE BARRIER.
All of our instructors speak English and French, and many can speak Italian, Spanish, Dutch, German, Danish or Russian too.
MEETING POINT.
Our adult ski school meeting point is easy to find in the heart of Val d'Isère on the snow front, and just opposite the Bellevarde Express chair lift. You cannot miss our brightly coloured Oxygène level-flags and our wave of blue uniform.
Follow the link to find out how to make your way to our ski school meeting point…
FIND US
Meet the girls for our Ladies-Only Ski Lessos right on the snow front in between Val d'Isère's Village and Bellevarde Express chair lifts, and opposite Bananas restaurant and bar. Look for our trademark bright blue Oxygène flags and friendly instructors… don't worry, you won't miss us.
THE RIGHT LEVEL.
You can find the right level for you via our Level Finder, otherwise you can always contact us by phone or email and our friendly team will help you.
Please note that we assess everyone on the first day and then throughout the week and we will move you according to your standard.
LEVEL WITH US
From Discovery to Steep & Deep, we like to make sure you're always in the right class. Simply click on our Level Finder and select the best fit based on your previous ski experience. Not sure? That's okay; feel free to call or e-mail us to discuss further. And remember, our instructors review abilities during the first lesson and throughout the week so we can regiggle on the slopes if necessary.
ADULT BEGINNER PACK.
Choose our Beginner Pack for best value! Available for adults (from 14 years old) joining Discovery or Level 1 ski school groups. It includes 5 or 6 mornings of lessons, a lift pass and optional equipment rental.
ADULT BEGINNER PACK
Our Adult Ski Beginner Pack is available for those joining our Discovery or Level 1 Adult Ski Lessons in Val d'Isère. Providing fantastic value for money, enjoy 6 lessons of ski school plus a week's lift pass.

Here at Oxygène, we're all for smashing the ski-gender gap. From inspirational female instructors who push ladies skiing to new limits to yoga, massage and après activities selected just for you; round up the girls and read on for our ladies-only powder, pamper and play.