Product Description
AFTERNOON PRIVATE LESSONS
An hour, a morning, afternoon, full day or whole week; we design our Private Lessons to fit around you.
Choose to go solo or couple up for exactly the same price. Want to add more to the pack? Make it a party of 6 at just €10 extra per head.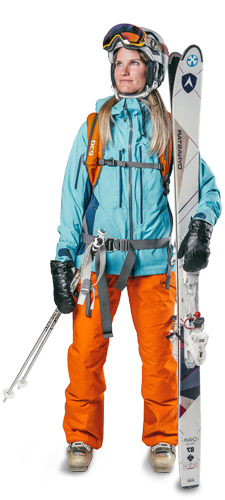 Indulge in 'me time'. We make our Private Lessons in Val d'Isère exclusively for your level and goals.
Ski, snowboard, telemark, off-piste, freestyle, snowshoeing or adaptive skiing… Take your pick; with Oxygène, you decide.
AVAILABLE ALL WEEK.
We offer the following private lesson options – 2 hours, 3 hours, 4 hours, 5 hours and full days.
SHARE WITH FRIENDS.
The price is the same for 1 to 3 people in the morning or 1 or 2 people in the afternoon. There is a small supplement per additional person afterwards.
LEARN MORE.
Taking a private lesson means your instructor will focus on you, your level and what you want to do.
DIFFERENT DISCIPLINES.
Choose from a variety of disciplines – ski, snowboard, telemark, cross country, off-piste, snowshoeing or adaptive skiing.
MEETING POINT.
Our ski & snowboard school meeting point is easy to find on the snow front opposite the Bellevarde chair lift. You cannot miss our brightly coloured Oxygène level-flags and our wave of blue uniforms.
Follow the link to find out how to make your way to our Val d'Isère meeting point!
FIND US
Booked in and raring to go? Great. Meet us right on the snow front in between Val d'Isère's Village and Bellevarde Express chair lifts, and opposite Bananas restaurant and bar. Look for our trademark bright blue Oxygène flags and friendly instructors… don't worry, you won't miss us.
GROUP SIZES.
In general, more than 6 people per private instructor would defeat the purpose of private tuition and for safety reasons we absolutely recommend 6 people or less in off-piste sessions.
SIZE MATTERS
To keep things private and exclusively for you, our Afternoon Private Lessons have a max cap of 6 per group. And the same goes for our Off-Piste Guiding sessions; by keeping them small, we can all enjoy safety in numbers.
PRIVATE LESSON OPTIONS.
With Oxygène Ski & Snowboard School in Val d'Isère you are able to able to take private lesson in a variety of disciplines – ski, snowboard, cross country, telemark and off-piste.
If you are looking for a different time slot you can follow the link to see what else we can offer you, otherwise feel free to contact us directly.
YOU DECIDE
Starting with 1-hour slots and expanding to mornings, afternoons, full days or even the whole week, our Private Lessons in Val d'Isère are completely custom-fit to your needs. Choose between ski, snowboard, cross country, telemark and off-piste (to name a few) and get prepped to progress like never before.

Start smart and do your homework. To find out what to expect from your Afternoon Private Lessons in Val d'Isère – including insider tips and tricks on how to prep and what to wear – check out our extra info page.

Enjoy more time on the slopes and lunch at your leisure by booking your little ones on to our popular Oxygène Lunch Club. Available everyday throughout the season, let them plate up while you ski out.