We know that COVID-19 has given rise to a global situation that is making travel increasingly difficult. But we also know that many of you are champing at the bit to leave the confines of your apartment, house, home town, county and even country to escape the 24/7 COVID newsreel and interminable Zoom meetings. We have the perfect suggestion… skiing / snowboarding!
What better place for a breath of fresh air than the snowy mountains? Here are our 4 top reasons why season 2020-21 is THE season to come skiing…
Click To Tweet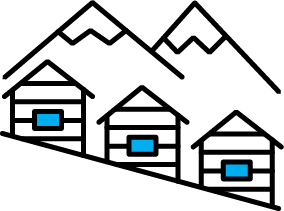 1. You'll have your choice of accommodation
At the moment, accommodation in resort is booking fairly slowly. No more rushing to get the last available chalet for half-term, you will have your pick of accommodation from self-catered apartments to high-end hotels and everything in between, throughout the winter.

2. The snow forecast is looking good
According to Yan Giezendanner, a former France Meteo forecaster and weather enthusiast, this winter is going to see colder winds and more frequent snowfall. He says snow will fall at low altitude early in the winter and that temperatures will drop further in January and February with snow continuing to fall into March. Don't believe us? Here's the link to the full story on The Connexion.

3. Book without risk
Along with many operators in the ski industry, we have adapted our terms and conditions so that you can book your ski lessons without stressing about losing your money if your trip goes south due to COVID. Never have terms and conditions favoured the holiday-maker so much.

4. Quieter slopes
Clearly not everyone will be able to make it out to the slopes this winter which will make the experience all the sweeter for those that do. Just picture yourself swooping down the slopes with the snow under your skis and the sun on your face with barely a soul in sight.
How about booking an instructor just for you?
Why not top off your ski holiday by booking your own private instructor? COVID friendly, they will allow you to jump the lift queue and can book you tables for lunch or apres-ski (that's right, apres is going to be a seated affair this season). Booking an instructor between your family or group of friends means you can split the cost and get everything you need from beginner lessons, to a ski 'MOT', to an off-piste masterclass, as well as a guide to take you to the best parts of the resort at any given time of day.
Tempted? Our booking team are on hand 5 days a week until the resorts open when they'll be online 7 days a week. Do get in touch if you'd like any help or advice.
Here's hoping to see you on the slopes this season.