We are thrilled to announce the arrival of our Oxygene bear (from his home in Val d'Isere) into La Plagne, Meribel, Courchevel and La Tania. 
After several years having fun in our children's group ski lessons in Val d'Isere he wants to spread his wings and discover some new resorts. More fun in expected in children's ski lessons this winter!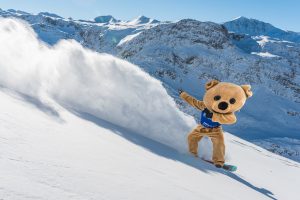 What is your favourite time of the week bear?
"For me, the best time of the week is the medal ceremony on Friday. At the end of children's ski lessons, we have a big party with music and dancing and the children receive their medals. Their parents are always happy to find out about how well they have progressed. There is also hot chocolate (which I love!) It can be a little sad because it is the end of the week and the children all go home afterwards. But we take lots of photos and I give out lots of cuddles and promise to see them all again next winter." 
Our bear is a big softy but it is true that the medal ceremony is a fantastic time where we all get together on the snowfront and celebrate a great week on the snow.

© Rémi NGuyen Cao
Oxybear, why are you leaving to discover other ski resorts?
"I don't know the Savoie very well because I've always spent my winters in Val d'Isere and the rest of the year I'm relaxing and getting ready for the next winter." I just want to find some new pistes and meet some new children to play with. I can't wait" said our bear, smiling from ear to ear.
Our bear will love going from resort to resort and meeting more children taking part in our ski lessons. Our bear has been known as Oxybear for a long time but he's really part of our family now so we'd like to give him a new, more personal name.
So, it's up to you. Ollie or Brownie?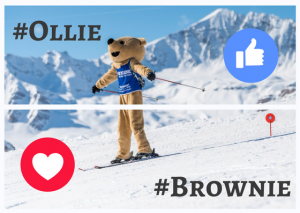 Visit our facebook page to vote! We will choose some winners from those who vote to receive a free Oxygene beanie to keep you warm this winter!
UPDATE: The Oxybear is now OLLIE ! Thanks all for voting!