You have been gearing up for your annual ski holiday for months. Your accommodation and your travel to resort is booked, and you've even booked your ski lessons, lift passes and equipment. You're all set. But what if something goes wrong in between organising your trip and actually getting to resort? Any of the following could have an impact: illness, injury, bereavement, changing work commitments or you might simply have a change of heart about what lessons you actually need or want. Is it possible to cancel your ski lessons in these circumstances? What is the procedure and will you be refunded? What about if your ski school has to cancel your lessons for any reason? Don't worry, Oxygene's cancellation policy is there to protect you, as well as the ski school, and since we're here, let us explain how it all works.
How do I cancel my ski lessons with Oxygene?
Firstly, let us reassure you that it is very simple to cancel your ski lessons if you want or need to. Simply let us know by sending an email to our in-resort team (you will find the email address to use on your booking confirmation).
Force majeure – er, in English please?
One thing you need to know before we talk about cancellation is force majeure. This is an event, declared in French law, that exonerates the ski school from reimbursing you for your ski lessons if we have to cancel your lessons due to a 'force majeure'. The three elements that characterise 'force majeure' are unforeseen, unstoppable and completely outside of our control. The good news is, force majeure type events almost never occur.
Cancellation more than a month before your lessons start
If you cancel your booking more than one calendar month before your lessons are due to start, for whatever reason, Oxygene will refund you the full amount you paid at the time of booking no questions asked. Phew.
Cancellation in advance less than 1 month before your lessons start
If you cancel your booking less than 1 month in advance of your lessons starting, according to our terms and conditions you are not eligible for a refund. But wait a minute. Let's be clear. It is not in our interests to take your money for no reason so we will do our best to accommodate any change of plans wherever possible. If you are making an insurance claim to recover the cost of your lessons we are able to provide a document attesting to the fact that you had booked lessons in advance and the amount you paid for them so that your insurance company can reimburse you. This last rule applies generally to all companies in resort including lift pass companies, equipment rental companies and accommodation providers.
Cancellation once you are in resort
Once you are in resort, if you become ill or injure yourself and cannot turn up for your ski lesson, we are unable to refund you. In effect, your instructor (or place on a group lesson) has been reserved for you and is highly unlikely to be able to be booked by someone else.
What if Oxygene needs to cancel your lessons?
If Oxygene is forced to cancel your ski lessons (except in the case of force majeure as recognised by French case law, more about that in a second) we will refund you in full.
What would an example of  'force majeure' be in this case?
An example of a force majeure that would prevent us from providing your lessons would be a huge snowstorm that paralyses the region, resorts and ski lift systems completely. A force majeure would be declared by the authorities meaning the snowstorm has effectively exonerated us from our obligations towards you, the customer, who cannot legally hold us responsible for not being able to provide your lessons that day. Thankfully, this occurrence is extraordinarily rare. It doesn't even happen once a season.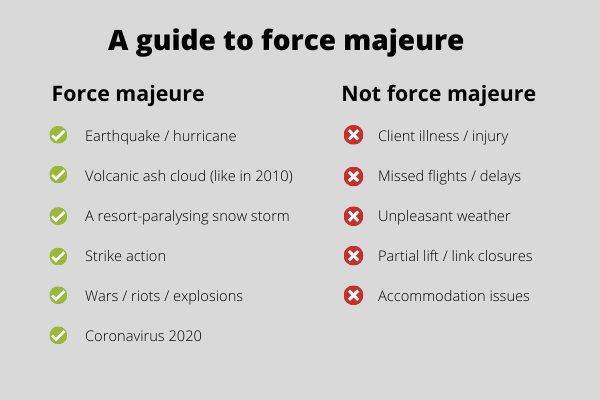 Conclusion
To sum up, it is possible to cancel your ski lessons whatever the circumstances. At Oxygene we are prepared to be flexible and do our best to manage any given situation as it arises. If you have any questions specific to your booking please contact our in-resort teams.
And if you want to take a look at other terms and conditions they are right here