When you become a ski instructor you become a ski instructor for life. Lots of people dream about turning their passion into a profession but it's not something that happens overnight. Let us explain everything you need to know about what we consider to be the best job in the world.
An adventure to the summit
Being a ski instructor is about being part of a huge family of snow-lovers. It's a job where the mountains are your office. Let us be honest, becoming a qualified instructor is a long and difficult process but if you are motivated you will succeed. It is possible to become qualified in 4 years however on average most ski instructors achieve this within 5 or 6 years of starting their diploma. Thankfully, it is one of the (rare) professions where you can start to work before you are fully qualified. The opportunity to start your adventure, become a ski instructor and start teaching is available to you from the age of 18 years old. Here in France the curriculum and exams are set by ENSA (Ecole Nationale de Ski et d'Alpinisme / National School of Skiing & Mountaineering) who are based in Chamonix. They are the one and only governing body in France responsible for awarding the Ski Instructor Diploma.
Challenging tests
Test 1: The Test Technique
You're at the starting gate of becoming a ski instructor. The Test Technique is a timed slalom course you must descend in the quickest time possible. To train and learn to overcome the psychological barriers to success we recommend you sign up for and compete in local and regional competitions. This experience will stand you in good stead when you're stood at the top of the course on the day of your exam. Our best advice: physically prepare yourself starting in the autumn, sharpen your edges, wax your skis and give it your all!
Test 2: The Preparatory Cycle (Cycle Preparatoire)
Graduating this phase gives you the right to work and develop your experience on the ground as an intern instructor. This phase takes 2 weeks. Its aim is to teach you the A-Z of teaching children and adults from beginner level to blue run skiers. Try to follow some lessons with a experienced instructors to understand the reality of the role of the instructor before you go for the exam. This exam is all about building your confidence.
Test 3: The Eurotest
For this test you will need to train intensively in the discipline of giant slalom. The Eurotest is a timed test amongst the most technical of any test you'll undertake during your diploma. This giant slalom lasts one minute and the opening skier (who sets the time you need to get within 10% of) are European Cup level skiers. Many ski instructors struggle with this test but it has to be passed in order to move onto the next stage. If the stress of the test prevents you from succeeding, relaxation techniques such as sophrology can help. Don't worry, many candidates need more than one attempt at the Eurotest to get their preparation right and achieve the required time.
Cycle One
This is a four week-long course. The aim is to cover all teaching objectives and demonstrations that you must be capable of giving to all levels of skier and snowboarder from beginner to advanced. You will be evaluated throughout the course on your teaching skills as well as being tested on a freeride descent.
Cycle Two
Competitive practices
This 'competitive practices' course, which is run by the FFS (Federation Francaise de Ski) will teach you to map out a slalom course and put together training sessions adapted to competitors. There are written and practical exams to undertake. Enter the arena and sharpen your look, you're the coach!
Mastering ski and snowboard teaching techniques
This is the last course on the piste which lasts 2 weeks. The examiners want to know that you are capable of teaching classes of 3-4 advanced skiers (red and black slope skiers) on skis and snowboard. You will be examined on snowboard on a timed course. On skis you will be examined on your teaching style and on your shape on a special slalom. Make the most of this course, the snowboard week is great fun and the skiing is intense!
The Final: off piste safety
You are at the end of the line.
Before you put yourself forward for this test you must explore as much of the off-piste in your local ski area as possible and deepen your knowledge of the snowpack in order to be able to determine the risk of avalanche. You must get to know and study every type of snowflake on the end of your finger. Go off-piste with experienced instructors and keep in mind that you must be able to lead clients on the same terrain. You will need to create a file presenting 6 off-piste routes. You will have to present your routes in front of a panel who will judge the quality of your work and the routes you have chosen in relation to the weather conditions. The aim of this exam is to observe your ability to safely manage a group of students off-piste and alert rescuers in case of an accident. Don't forget that there is never zero risk and as an instructor you have an obligation to your students to do everything in your power to identify, analyse and reduce the risks. Finally the timed "Eurosecurity" test involves finding two buried avalanche victims using a transceiver in a 50m2 area in less than 8 minutes. You set off with your shovel and probe ready and must keep calm and be thorough as you search. The course takes place at Chamonix or Tignes where you spend 2 weeks with seasoned and highly experienced guides. It's by far and away the most intense and enriching course on the curriculum. So over to you for the best off-piste descents in the alps, amazing memories and a medal at the end!
Make your tracks with us
If you are up for the challenge and the idea of becoming a ski instructor appeals to your sense of adventure then you are part of the reason why Oxygene created the Ski Academy. A real training centre, it is a springboard (or should we say ski jump?) to becoming a ski instructor. The objective of the Ski Academy coaches is to ensure your the success across all the various tests, improving your technique and helping you move through the curriculum This training can be achieved in conjunction with studies if required. Newly qualified instructors can then integrate into a team and follow a career path at one of our 9 Oxygene ski schools in the French Alps. In recent years our schools have become renowned for their adaptive (disabled) ski programme and provides training in this discipline to our instructors with a view to being able to make skiing accessible to all. Throughout your career Oxygene will enrich your knowledge and experience. Every day we strive to be better. Safely passing on the pleasure of skiing to our students is the bedrock of being a ski instructor. Happy skiing and good luck!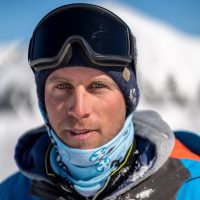 Blog by Maxence Gallot.
Maxence, age 29, became fully qualified 3 years ago. He is an instructor in La Plagne, a resort that he knows like the back of his hand. He chose to work for Oxygene for the great atmosphere within the team and for the opportunity to teach an international clientele.