Finding your way to a successful and fulfilling career is challenging. Since you're here, you're most likely already attracted to the idea of becoming a ski instructor. In my view there's no vocation more rewarding. I live to see the smile on the face of a child who I have helped discover skiing and the delight in the eyes of a student as I guide them on their first powder turns off-piste. Want to know if this profession is for you? Read on for the top 5 reasons to begin your career in the biggest and most beautiful office in the world and how to combine work and play in the land of white gold!
1. Pass on your passion and become your own boss
Sharing experiences, bringing skiing to life, teaching and passing on knowledge is a love affair for many of us ski instructors. We are the masters of our ship and our students look up to us. We plan our sessions as we see fit to provide maximum enjoyment and progression. Essentially, it's up to you. Together with your students you establish their goals. From there you adapt your teaching to deliver the best service possible. This job gives you independence and freedom as wide-ranging as the mountains you teach in. You manage your own time, sharing your availability with the bookings team of the ski school that provides your work. You're independent, free to manage your career to suit your needs and desires.
2. Change your daily routine forever
Working in harmony with nature is one of the best things about being a ski instructor. Kiss goodbye to long days in the office sandwiched by traffic-jammed commutes to and fro. Instead, ski to work and back and breathe that fresh mountain air. Living in resort means opening the shutters each morning to sparkling white mountains ready and waiting for you to click into your skis. All you need to do is plan your classes, map out your routes and give the best of yourself to your students. And once your work day is over, why not make the most of this winter paradise and discover new horizons with a sundown ski tour. Days off can be spent discovering new disciplines and new horizons. Why not go for an off-piste adventure taking in views as far as the eye can see or take up paragliding, ice-climbing or cross-country skiing. Being a ski instructor allows you to make time for yourself, to partake in different activities, experience the extreme and make life-long friendships with your colleagues. All of this adds to your experience and will help you make each season more fulfilling than the last.
3. Find work easily thanks to the French diploma
It's a fact, with the French ski instructor qualification in your pocket you won't be short of work. It's one of the most sought-after qualifications in the industry. Once that medal is on your chest you can teach all types of clients from the youngest beginners to the most experienced skiers and snowboarders. It's the only qualification in Europe that allows you to teach both disciplines on an equal footing. If you're looking for bigger challenges you can top up your training to work within a ski club as a trainer for promising young ski champions or  become a coach to trainee instructors. There are so many possibilities that there is never time to become bored or routine-bound. It's fair to say that the winter sports industry is a healthy one and there is never a shortage of clients looking to learn, improve, push and enjoy themselves.
4. Meet new people and make unforgettable memories
Every season you will meet students that you will never forget. You'll sing with them on ski lifts, dance with them in the powder and spot marmots with them. They might give you a fright in a white out and may occasionally give you a hard time but their progress and their enthusiasm for the challenges you lay down before them will make you proud. For me, this is undoubtedly the best part of the job. We often keep in touch with our students, seeing them year after year. From time to time we're even invited to visit them on the other side of the world! Working with an international clientele your curiosity for other cultures and places is awakened on a daily basis and you'll find yourself with a growing appetite for travel, like many of us at the end of the season. And there's nothing better than a new adventure to make you return to the mountains fired up for another season.
5. Stay on top form and enjoy earning your living
Your body is your work horse so you'll want to train year round to ensure you stay on top form throughout the winter. There are very few professions in which you'll burn so much energy; skiing is one of the sports where you burn the most calories. That means you'll be maintaining an optimum physique while you're working. It is satisfying to know you are developing yourself on a daily basis throughout your career. You will also enjoy your job. When you are teaching off-piste (following the indispensable safety rules to ensure your session runs smoothly), you will enjoy the powder turns as much as your students. Your sessions are a direct reflection of your state of mind. Finally, as an instructor you benefit from discounted season lift passes and cheap day passes in other resorts meaning you can fill your boots on your days off.
So, do you fancy working for Oxygene?
Taking ski lessons is a huge part of any holiday-maker's ski holiday and ski instructors are in high demand. If you're still reading, perhaps you're considering joining the adventure with us. We are looking for ski and snowboard instructors in all of our resorts across the French Alps. In joining our team you will get plenty of work with an international clientele. We offer a good hourly rate of pay and a friendly and dynamic team around you. Once you've worked as a ski instructor it will be hard to imagine yourself in another profession. Your favourite sport will become your job. What more do you need to join us?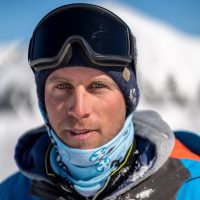 By Maxence Gallo
Maxence is 29 and is a fully qualified instructor working with Oxygene. He skis and works in La Plagne which he knows like the back of his hand. He joined Oxygene for the team spirit and the friendly, international clientele.