You've done it. You've booked your place on the Ski Academy and you are ready to set off for the mountains. Ready? Well, perhaps not quite… have you considered what you will need to pack? What are you going to need for the next 13 weeks? If you're going to succeed you'll need the right tools for the job. Throughout your training you'll get advice from our coaching team to improve your chances of success. But don't stop here, we'll throw in our first piece of advice for free. Here is what you'll need to bring with you as you embark on your adventure to become a ski instructor. We've even included a checklist at the end to ensure you don't forget anything.
SKIS
Before we start, don't worry, we're not going to ask you to invest in any specific equipment for you to be able to take your place in the Ski Academy. We actually advise you not to go and buy a flashy new pair of skis. Although they may look great and be the latest design, you might find out they're not the right thing for the type of training you'll be doing. With the choice of skis being so huge, we simply recommend that you turn up in resort with your own skis (preferably piste skis rather than all mountain or freeride/freestyle). Once training has begun, your coach will be able to advise you on the best skis to invest in to suit your physique and technique. In terms of getting hold of the right skis, you can order them directly through Oxygene (where you benefit from great discounts from brands such as Head, Rossignol, Scott, K2 etc).
SKI BOOTS
The same goes for ski boots. Begin your training with your own boots and your coach will advise you if you need to upgrade them in relation to your foot shape and technique.
WHAT IF YOU DON'T HAVE YOUR OWN KIT?
There are a few options. You can either see whether you can borrow some skis and boots from a friend or family member to start you off, otherwise you can rent in resort (or if you're in La Plagne, simply borrow from our shop). Before buying take the opportunity to try out a few different models of skis and boots to see what suits you best.
PROTECTIVE EQUIPMENT
Other than a helmet (which you should bring with you), you won't need all the protective gear in the first few weeks. As you progress however you'll need poles with hand protectors, shin guards and a chin guard for your helmet. Again, you don't have to spend a fortune on these items. Once you're in resort, join the local Facebook groups and ask around to get in touch with instructors and racers who no longer need their equipment. You'll find some great kit at low prices.
CLOTHING
Once your slalom training starts in earnest, you'll need a race-suit. Oxygene have designed one especially for the Ski Academy. It is warm, comfortable and aerodynamic with integrated protection. Count on spending around €300 for a new one. To welcome you to the Oxygene family, we'll equip you with a ski jacket and pants in Oxygene colours for general wear. You'll want to pack a few sets of base layers to keep yourself warm whilst on the hill. Synthetic materials are the cheapest option and work well to take sweat away from your skin. Alternatively, you can go for the pricier merino options which do the same job but are more natural and less stinky! Take a look at this blog to find out more about how to clothe yourself effectively for skiing. Finally, don't forget socks and make sure to pack a good few pairs!
WHAT ABOUT THE REST?
Goggles or sunglasses?
We'd advise you to ski wearing goggles. It really is the best option as they offer protection against the cold and wind.
Gloves or mittens?
You choose. Gloves allow for more dexterity but if you're someone who gets cold hands easily, mittens are your best bet. Best to pack a couple of pairs to be sure of having a dry pair every day.
Gym kit
Preparations for your test technique take place in the gym as well as on the slopes and a gym pass is included in your package so don't forget your shorts and some indoor trainers.
Day to day
Don't forget you'll be spending 3-4 months living in a ski resort. This isn't London. You'll need warm clothing and a good pair of snow boots (tall, warm and waterproof) to keep your feet toasty and to avoid sliding around like a giraffe on ice. You'll need to think about your living accommodation too. A laptop or tablet will allow you to chill out and watch movies whilst headphones and /or earplugs will help you keep the peace with your roommates.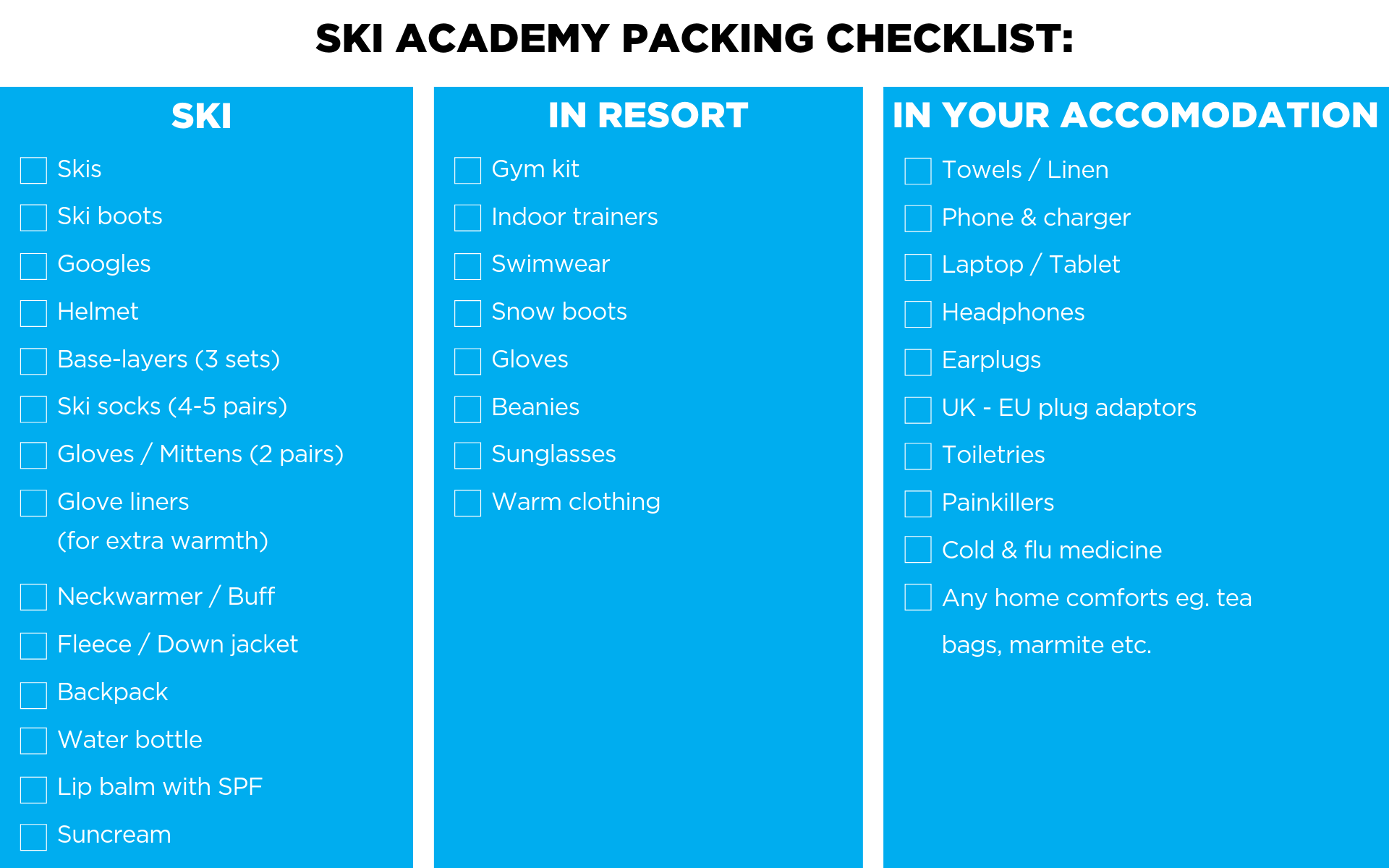 And remember, the Ski Academy is more than just ski training. We offer personalised support and are always here to answer your questions, just get in touch.