Warm clothing is a must in the mountains in winter but between synthetic and natural base layers and insulated and shell jackets, how do you choose what to wear to go skiing?
"I always feel the cold when I'm skiing so this year I'm going to buy the biggest, thickest jacket I can find!" Sound familiar? Stop right there. A warm jacket doesn't mean you have to hit the slopes looking like the Michelin man. A good layering strategy will make more difference to your warmth and comfort than one huge jacket. Let us explain why…

The Golden Rule: The 3 Layers Principal
The 3 layers principal is universal but surprisingly unknown in terms of what is required to keep you warm and dry in the mountains.
Layer 1
The technical base layer. In direct contact with your skin, its job is to wick sweat away from your body.
Layer 2
The insulated mid-layer. Either a lightweight insulated jacket or a fleece. This layer is designed to keep you warm.
Layer 3
The waterproof and windproof layer. A jacket and ski pants to protect you from inclement weather.
For more information let's look at each layer one by one…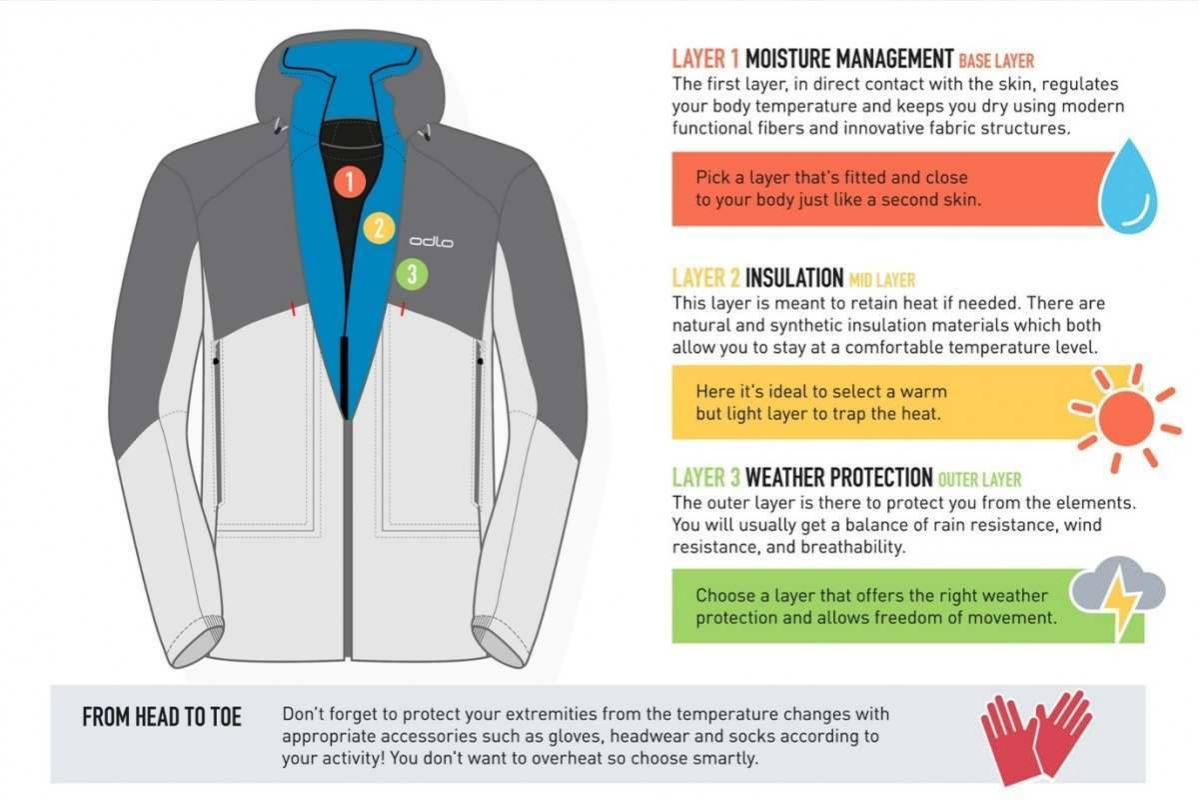 Layer 1: The technical baselayer
In direct contact with your skin, the baselayer (top and leggings) is the first layer of clothing on which your comfort depends. First of all, forget cotton. Ideal for pyjamas or for the clothes you wear about town, cotton is your worst enemy when it comes to sport. Once it is wet it stays wet and acts as a heat conductor taking heat away from your body. You are always going to sweat a little whilst you're on the slopes as you warm up by exerting yourself on the slopes or off-piste and cool down while you're on the chairlift or in a queue for the gondola. A baselayer top is vital but leggings or long-johns should only be worn in particularly cold temperatures or if you're very susceptible to the cold as generally ski pants already have a layer of insulation within them.
There are two types of materials that base layers are typically made from:
Synthetic material baselayers (25€-100€ per item)
Whilst synthetic baselayers are kind on your budget and do a good job of keeping you warm and dry, it's worth knowing that they do have the downside of trapping unpleasant odours.
Merino wool baselayers (40€-130€ per item)
Merino wool is excellent at wicking away moisture and trapping body warmth at the same time. It is a natural fibre and as such has another advantage, that of masking any unpleasant sweaty odours.  Merinco is so fine that it doesn't itch and will keep you warm all day.
NB: We recommend this option if your budget allows.
Layer 2: Lightweight insulated jacket or fleece?
Once your base layer, which will help control and wick away any sweat, is taken care of it's time to think about your mid-layer to keep you warm and cosy on the slopes. First it's useful to know that heat is retained in air pockets within the fabrics and between your layers so having layer that are too tight to keep the cold out can be counter-productive. The 3 layer system is scalable to your requirements. If it is warmer weather or you are a particularly warm-blooded person you can leave out the mid-layer or exchange it for a thinner layer. If it is colder or you feel the cold more than most add a second mid-layer like a gilet. Here are our tips to help you choose a good mid-layer.
Lightweight synthetic insulated jacket (70€-300€)
There are a variety of synthetic insulating materials used in lightweight mid-layer jackets including Primaloft which is warm, breathable and compressible and Haglofs QuadFusion Mimic which is top of the range in relation to its warmth/weight ratio. Be wary of bottom of the range options which can be less warm and more bulky.
Lightweight down insulated jacket (between 100€-350€)
The main reason for choosing down is because it offers better warmth-to-weight ratio than any of its synthetic cousins. On the 'down' side (excuse the pun) it doesn't breathe as well or insulate as well when wet so if you're likely to sweat a lot it's not for you. Down jackets do compress down well if you want to pack it into your bag though.
NB: These two types of insulated jackets are often water resistant and windproof so can be used as a top layer (without at 3rd layer underneath) in warmer dryer days on the slopes.
Fleece tops (between 30€-140€)
Fleece is an effective (and cost-effective) insulating layer. Polartec is a good quality option that you may have heard of which is breathable and light. In general the thicker the fleece the warmer it will be but beware of thick fleeces at the lower end of the market as they may not be particularly breathable making you more sweaty and colder as a result.
NB: A fleece is not windproof so needs a layer on top to protect you from the weather
Layer 3: Ski jacket and pants to protect you from the elements
All you need now is a jacket to protect you from the wind, snow and rain. For this you need a jacket and pants with a good quality waterproof membrane (between 10-28k). Read our article for everything you need to know about waterproof and breathability ratings. If you're not planning to exert yourself too much or think you might spend a lot of time waiting for friends and family you probably want to choose a jacket with built-in insulation. For more energetic skiers or anyone planning to go ski touring, a shell jacket (that is waterproof and windproof but has no insulation) is preferable for breathability purposes.
So how do you ensure you stay comfortable on the slopes?
Your ultimate comfort will come from staying dry, warm and protected from the wind. The most common mistake amongst holiday-makers is thinking that a thick jacket will do the job without considering how waterproof it is or whether it has good insulation. Some skiers think that with a good jacket, it doesn't really matter what you wear underneath. Remember, the three layers we have talked about all complement each other therefore if one of the layers is not doing its job the system won't be effective (for example, a cotton t-shirt can quickly become damp making you cold). For maximum comfort, dress according to the outdoor temperature and weather conditions as well as the level of exertion you expect to put into your skiing or snowboarding. Beginner skiers and snowboarder generally get warmer than experienced skiers who ski more 'economically' in terms of the energy they use.
How can Oxygene help?
If you're still not sure about how to dress for your ski trip give us a call. Let us know what type of activities you're planning and we'll be able to offer you some advice. Trust us, we know our mountain conditions and how to keep warm to get the most out of our time on the slopes.