How waterproof and breathable should my ski outfit be?
Being comfortable on the slopes is a major contributing factor the success of your ski holiday. You want to stay dry when the snow falls (or you fall in the snow) and not be soaked through with sweat from your exertions by lunchtime. To achieve these simple goals you'll need ski clothing with a good waterproof and breathability rating. Let us explain…
WATERPROOF OR WATERLOGGED? HOW TO MEASURE…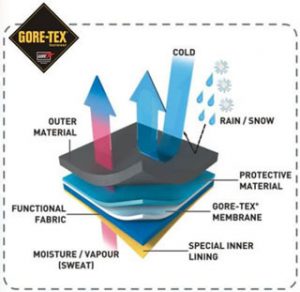 A good waterproof garment should have at least 2 layers. The first is a protective (repellent) coating that causes water and snow to slide off the surface to stop the fabric absorbing the moisture. The second is an integrated membrane (microporous film) that resists drops of rain/snow from getting through whilst allowing sweat to evaporate out. Together they form a waterproof barrier to protect you whilst you are skiing. But beware, the waterproofing rating varies enormously between ski outfits.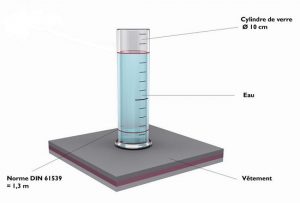 Fabric waterproofing is tested using the Schmerber test and is measured in mm. The Schmerber test involves putting a column of water under pressure onto the fabric and measuring the height of water in the column that it takes to penetrate the material. The higher the column of water, the more waterproof the garment is. So, if the column of water measures 10,000mm before the water penetrates the material, it has a rating of 10k waterproofing. A jacket with a 20k waterproofing rating is therefore even more waterproof than one with a 10k rating.
RATINGS TO AVOID FOR SKIING IF POSSIBLE
Lower than 5k: Definitely less waterproof than you would like for skiing to remain a pleasurable experience during a snow shower. Generally fabrics with less than a 5k rating don't have a very waterproof membrane and can have a poor repellent coating. Beware of shops that sell 'ski jackets' with this rating…
5-8k waterproofing: Again, not really fit for purpose for skiing as they won't keep you dry and comfortable in case of bad weather.
8-10k waterproofing: 

Waterproofing ok for occasional and predominantly fair weather skiing.
IDEAL FOR OCCASIONAL SKIERS AND ON-PISTE SKIERS
10k waterproofing: A decent rating and the minimum you would want to wear for several hours on the slopes each day. Ski clothing with this rating will keep you dry for a good 2-3 hours in the event of snow.
15k waterproofing: A good waterproof rating, resistant to most snowy weather and guaranteed to keep you dry all day.
FOR SKIERS AND SNOWBOARDERS LOOKING FOR ALL DAY COMFORT ON AND OFF-PISTE
20k waterproofing: A very high waterproof rating.
28k waterproofing: Goretex fabrics are the only ones to achieve this, the highest waterproof rating in skiwear. Higher waterproof ratings do exist but at the expense of breathability and so so they are not used for ski clothing.
AND BREATHE, YOU'RE IN THE FRESH AIR
Your lungs will love you for the clean, fresh mountain air you start to breathe as you arrive in the mountains, but it's not just your lungs that need to breathe. Your skin also needs to breathe through your ski clothing. If your ski clothes aren't breathable you will sweat, become damp and then very quickly, cold and uncomfortable.

Measuring breathability and choosing the right rating
The breathability of a fabric relates to its ability to let sweat (in the form of water vapour) escape. It is measured according to the amount of water vapour let out per metre squared of fabric over a 24 hour period. It is expressed on the label of your ski clothing in mm like the waterproof rating and is almost always shown immediately after. For example, a jacket with a label showing 20,000 / 15,000 has a waterproof rating of 20k (an excellent rating) and a breathability rating of 15k (which is also extremely good). An item of ski clothing with a 8,000 / 5,000 rating won't keep you dry for long. Don't forget, a highly waterproof jacket might not necessarily be very breathable. A combination of highly waterproof and highly breathable is desirable for ultimate comfort on the slopes, thankfully all of our outfits have a rating of 10-20k so you can breathe easy.
OUR ADVICE? BUY ONCE AND BUY WELL
So forget about saving money in the short term by buying cheap brands with low waterproof and breathability ratings. See you ski clothing as an investment. Buy once and buy well. Investing in a good quality outfit will serve you on your ski trips for years to come.