OUR TOP TIPS FOR A SMOOTH START.
From helmet hair to ski socks and boots, we uncover exactly what you need to buy, wear and do before your child's first day at ski school.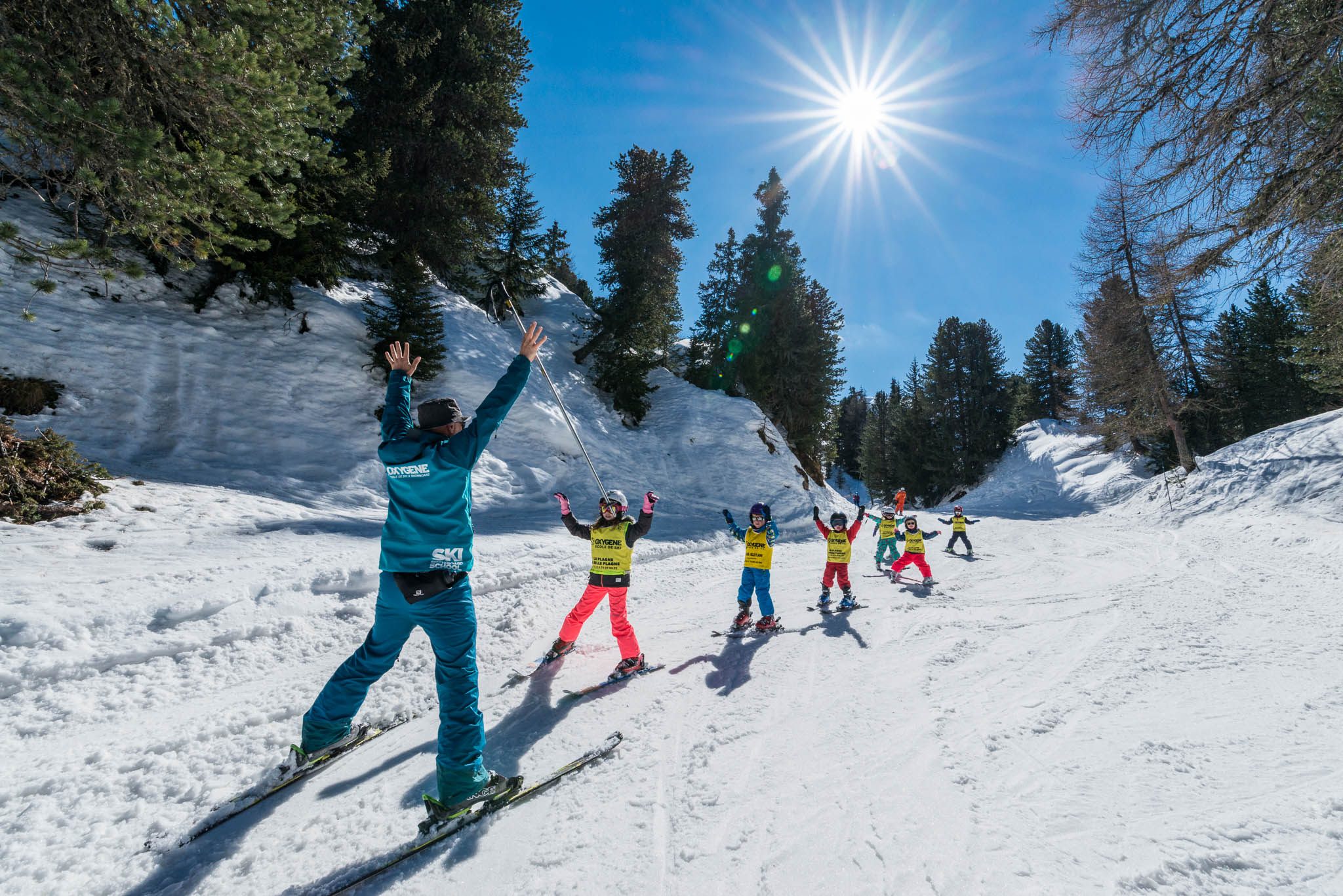 We understand that the first day at ski school marks an important milestone for both you and your child. On top of the usual stress of family-holiday prep, you're now met with the unenviable task of introducing your little one to the highs and lows of learning to ski. What with all the extra clothing and equipment to consider – thermals, socks, skis, poles – it's little wonder that your stress levels are summiting too.  
Here's our top tips for a smooth start to ski school this season.
LAYERS: QUALITY NOT QUANTITY
Thinking bigger the better? Wrong. When it comes to layers on the mountain, it's all about quality over quantity.
Avoid the bulk. Contrary to what we're led to believe, bulky items such as heavy hooded fleeces and oversized jackets may not only hinder your child's range of movement and flexibility on skis, but may even prevent healthy air-circulation thanks to unbreathable fabrics. Children are therefore more likely to become sweaty and agitated, thus increasing the dangerous temptation to remove the hoodie while out in the cold.
To prevent this, opt for thin high-tech layers made of specialist wool, such as Merino. Ellis Brigham's range of high-quality Merino wool thermals are guaranteed to keep your child warm while allowing for freedom of movement.
Psst: Did we mention that Merino wool is famous for it's great breathability meaning they'll stay fresh for longer? That's right, you'll have less in the laundry pile and the kids can stay warm and snug all-holiday long. Result.
PLAITS ARE WHERE IT'S AT
If you've got girls or even long locks, this bit is for you. Helmets can only do their job if they're nice and snug on those little noggins right, so how can you achieve that with all the hair?  
Avoid pony tails or big hair accessories. Uncomfortable and not to mention unsafe, large pony tails and huge hair ties can actually lift and reposition the helmet, potentially making it just as dangerous as skiing without one.
Plaits are a great solution; super cute and nice and neat, their typically 'flat' structure prevents tangling while also encouraging the helmet to fit properly. Oh, and they're great at preventing knots, which means less-painful hairbrush sessions and fewer tears back at the chalet.
Psst: Try out these 7 plait ideas from Easyways.net. Win-win.  
PUT A SOCK IN IT
We're sure you've all heard of the phrase "fits like a glove". Well that's exactly what we want from our children's ski socks.
Avoid baggy or slightly oversized socks "they're sure to grow into". Surplus fabric is more likely to form creases around the ankles, making the boots uncomfortable and harder to fit, thus hindering the much-needed support to their delicate heels.
Try opting for ski-specific socks like these ones from Absolute Snow (absolute bargain). They don't need to be super high tech, we're just after a good fit.
Psst: If in doubt, opt for a size smaller – thanks to ski socks' elastic nature, you'll be surprised how far they can stretch and mould to those tootsies. Mmm, nice and snug.  
MAKE THE BOOTS FIT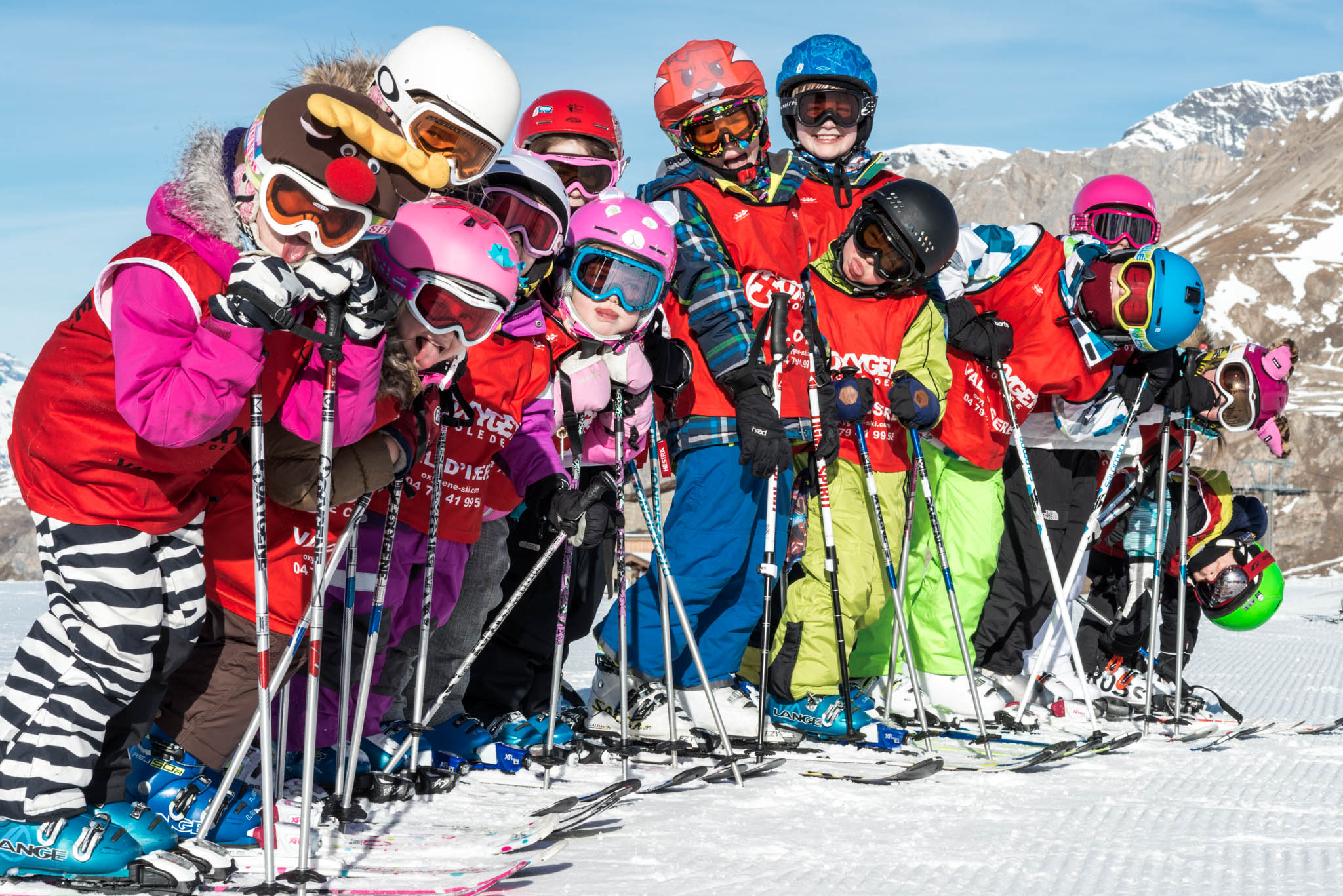 Just like Cinderella found out, when it comes to footwear – it's all about the fit. The wrong pair of ski boots can easily result in injury so we're after support for both control and comfort. According to ski professionals, boots are in fact the most important piece of equipment and can make or break a child's (or adult's) ski experience.
Avoid loosely done up or oversized boots that resemble a pair of wellies. If they can go on the wrong foot, they're definitely not the right size.
Why not take your boots and get fitted by a professional at a ski hire shop, or in the chalet by a mobile fitting service like Oxygène? And, if you're still not sure, just ask the instructors to double check them before the lesson to make sure they're fastened correctly and Cinderella perfect. Double buffer.
HAPPY HANDS
It's pretty cold up here in the mountains, so protecting our extremities, including those little mits is extra important. With so many gloves and ski-accessories on the market (most of which are littered with confusing lingo and technical jargon), it can be difficult to find the perfect pair for your child. We thought we'd give you a helping hand.
Avoid woolen gloves. These soak up water like a sponge, which means remaining wet and cold all lesson long.
Look for insulated synthetic or leather gloves, especially those engineered with GORE-TEX inserts. Designed to offer advanced weather enduring protection, they control the transfer of heat from within the glove to manage moisture and improve comfort in all conditions. Mmm, we love warm and dry hands.
So, that's a wrap. Here's to the best first day at ski school, from the Oxygène team.