Following the success of International Women's Day (8th March 2017), we thought it's about time we focus on all-things female. From our exceptional ladies-only lessons – which continue to push female skiing to new limits and threaten to smash the ski-gender-gap – to pampering, yoga, massage and après, it's time to round up the girls and get set for some ladies-only powder, pamper and play.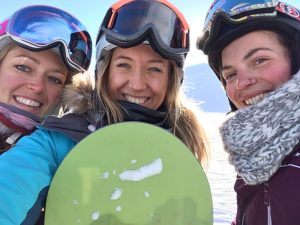 POWDER
Open to female skiers and snowboarders of all abilities, Oxygène's exclusively ladies-only lessons in Val D'Isere are designed to offer women a comfortable, pressure-free environment for learning to ski. Covering the best techniques, ski-practices and places to explore (including how to ride powder), the course is spread over 3 afternoons and offers comprehensive tuition, which is centred solely around the girls.
But, why the need?
Claiming 52% of ski-school business, men are apparently still dominating the slopes. Our instructors want to close this gap further and believe that many women – especially those whose partners are of a higher ability – can be quickly pushed out of their comfort zone and above their safe skiing level when opting for DIY tuition. Despite their partners' previous experience and good intentions, most women find that their technique, confidence, as well as patience are compromised and are thus less enthused to continue skiing or learn how to improve.
Apparently, the maternal instinct affects a woman's confidence and reactions to danger too, which may explain why some mums are less tempted to ski. Such reports suggest that women are more concerned about the risks and consequences of extreme sports, and therefore, in a bid for self-preservation, are less likely to push their limits.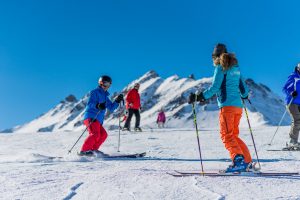 "A bad fall poses a threat for not only our careers, but also for the day-to-day living and organisation of our lives and families", comments Jenny, one of Oxygène's 20 female ski instructors.
"Many women sign up for private lessons and ask specifically for female instructors because of  previous 'bad experiences' on the slopes with their spouse. 'Who will take the kids to school, look after the chores and manage the house if I break my leg?' is usually the biggest concern, and it's then left up to the instructor to provide confidence by assessing their level before trying to move them forward and overcome these limitations."
Before you can go beyond them, you have to know what those limitations are. Men often forget this stage and actually can place speed over technique, making it harder to take full advantage of the tracks", says Jenny.
Consequently, our instructors believe that the ladies-only lessons are a great way to improve confidence and encourage safer technique in a mixed, yet pressure-free environment.  
Psst: Want to join but worried about childcare? Get in touch with our friends at Little Chicks Childcare, whose friendly, highly-qualified nannys are happy to look after your little ones, so you can fully look after you. Perhaps this your first ski lesson and you're unsure of what to bring? Check out our guide on how to prepare for your holiday and look like a pro.
PAMPER
YOGA
So, it's the eve after your first ski lesson and you're beginning to feel the ache. Why not sign up for a yoga session with Calypso, one of Oxygène's ski and yoga instructors, who can demonstrate the best stretches and techniques to help you relax body and mind?
"Tourists, like many skiers, think that skiing is all about leisure, having fun and play. Many fail to acknowledge that skiing is in fact an extreme sport, and like any sport, it requires warm-ups and post-ski stretching", comments Calypso.  
Psst: Check out our tips on how to warm up and cool down to prevent injury on and off the slopes.
MASSAGE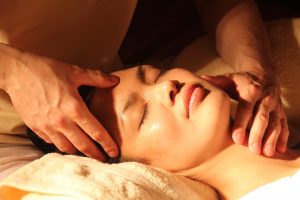 Our instructor Barbara believes that massage is another great way to relax, de-stress and unwind. As a ski instructor with over 18 years' experience, Barbara understands the importance of body conditioning and which muscles are prone to tension from skiing all too well. Last summer in Italy, she completed a massage course and is now a fully-qualified masseuse.
"For those who are only able to ski for say one week a year, the aches and pains after just the first session can be pretty gruelling. Treat your muscles and clear your mind with a massage that focuses on those ski-specific problem areas", says Barbara.
"Deep Tissue massages are extremely popular as they focus on digging deep to relieve stress and improve circulation for the back, neck and leg muscles in particular. Maori massages go further still by using wooden tools to relax and manipulate the muscles and knots. I'd recommend Sport Massages either before or after skiing on your first or second day", recommends Barbara.
Psst: To find out more about available massage packages, contact our booking team in Val D'Isere.
PLAY
APRES-SKI
Apres-ski is a French term, which, literally translates to 'after-ski'. Originally referring to the act of  enjoying the last rays of sun while on the slopes, it continues to encourage the "after effort, comfort" ethos we still experience today. It's fair to say that now – for most – it's the perfect opportunity to catch up with your group, dance with the girls and really let go.
You'll find that most ski resorts are pretty well-equipped to host such fun and play. With a wide variety of bars in Val d'Isère and all the surrounding resorts offering après-ski events, you can now relax and unwind in a social setting while perfecting your tan on top of the world.
So, what are you waiting for? It's time to ditch those skis, grab the girls and bust out those moves… ski boots and all.
Psst: Stay on top form and keep your muscles happy and hydrated. Aim to glug at least one litre of water after skiing and match each glass of alcohol with one of H2O.  
THE SPA
If carefree and adolescent play is more your thing, why not don your swimming cosy and head to the Aquasportive centre in Val d'Isere?
Offering a variety of family-friendly activities from splashing in the play pool and gliding down the rapids to letting off steam and catching up with the girls in the hammam, entrance to all areas including the gym and wellness area is a steal at just €25. Open from 10:00 – 21:00, the Aquasportive centre also offers activities for those wanting to physically push themselves, including a series of Aquagym sessions, fitness classes and squash, as well as a climbing wall with optional tuition.
Psst: The climbing room offers one-and-a-half-hour courses for children. Why not book them on and enjoy a relaxing time with the ladies in the hammam?