EAT AS MUCH AS YOU LIKE! (on the slopes obviously)
It's time! Time to put on your ski socks, your faithful thermals, and strap on your skis or snowboard for unforgettable days on the slopes.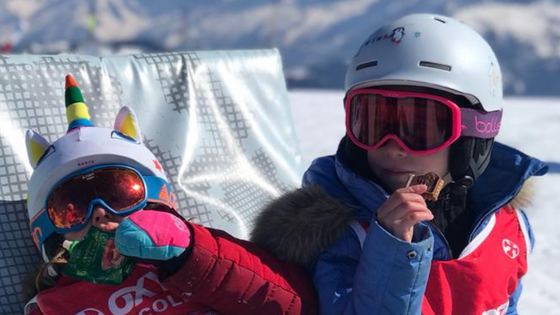 You want to discover the whole area and make the most of your mountain days without ending up hungry and tired in the late afternoon. All you have to do is take a backpack and prepare some snacks to get you through the day!
To delight your taste buds, the Oxygene team has some delicious and energizing recipes that are easy to make!
Hunger Busting Energy Bars
140g rolled oats

115g almond butter

 8 medjool dates (pitted)

2 tbsp chia seeds

2 tbsp flax meal

60ml water
Method:
Grind the oats in a food processor. Add the remaining ingredients and mix to form a dough. Line an 8x8in pan with baking paper, put the mixture in and press down. Chill the mixture in the fridge for about an hour, then cut.
Makes 10 bars
Enjoy your homemade energy bars!
https://www.runnersworld.com
Great Balls of Protein! !
After an effort as intense as a run, it is important to fill up on protein. Protein is necessary to repair the muscle after exercise and to be able to go back to work the next day without injury and stay in great shape!
These no-bake protein balls are the perfect energy snack without too much added sugar.
It's the perfect snack to carry in your backpack!
The best thing since sliced bread!
Ingredients:
180 g oatmeal

4 tsp. protein powder

2 tsp. cocoa powder

1 tsp. nutmeg

2 tbsp. sesame seeds

4 tbsp. peanut butter

1 tsp vanilla extract

2 tbsp. honey

150 g semi-sweet chocolate chips (60% cocoa)
Place the rolled oats, cocoa powder, protein powder, nutmeg and sesame seeds in a large bowl. Add in the peanut butter, vanilla extract honey and chocolate chips and stir together until the mixture starts to combine. Next, get your hands in the ball and start shaping the mixture into balls by rolling them between your palms. If the mixture seems a little too dry, add a couple of drops of water. The mixture should make 12 evenly shaped balls. Each ball needs to be placed on a baking tray and then placed in the fridge for at least 30 minutes to stiffen up.
Banana Bread, our go-to comfort food.
At Oxygene, it's our favorite recipe. Do you have some bananas that are a little too ripe and you don't know what to do with them? Banana bread is the perfect solution to avoid waste.
Ingredients:
125 g almond flour
80 g flour (all-purpose)
50 g butter (unsalted)
1 sachet baking powder
2 bananas
100 g raw cane sugar
2 eggs
It sells like hot cakes !
Preheat the oven to 350 °F. In a bowl, add the flour, sugar, almond flour, baking powder (or baking soda) and a pinch of salt. Mix to combine.
In another bowl, mash the bananas. Tip: The riper they are, the better, so don't be afraid to use black bananas! Add the eggs and melted butter to the mashed bananas. Mix and add it little by little to the dry mixture.
Grease your cake pan and pour in the batter. 
Bake for 50 minutes. Use a toothpick to check that it's cooked throughout. Serve cold or at room temperature. It's even better the next day! Enjoy!
Optional: you can personalize your banana bread by adding chocolate chips, almonds, hazelnuts, or chopped banana on top to decorate.
https://jow.fr/recipes
You can modify these recipes with your favorite ingredients or make them vegan very easily. We can't wait to discover your feedback, and we hope you will enjoy them between two snowy slopes.
See you soon !