In honour of International Women's Day 2017, we're celebrating the incredible ski-achievements of Noemie Lemaire, Freeride World Qualifier contestant and Magic Ski Instructor. Read on and be inspired to #BeBoldForChange.
We would like to share the incredible story of a young skier who is successfully juggling education, ski teaching, sailing and a super strict ski-training schedule with entering the highly prestigious Swatch Freeride World Qualifier 2017.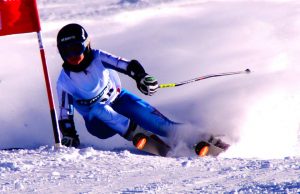 Celebrating her achievements in line with the International Women's Day #BeBoldForChange campaign, Noémie's dedication and admirable happy-go-lucky-attitude to her gruelling schedule and technical training regime continue to push her to the forefront of success, as well as encourage a greater level of appreciation for women in this predominantly male-dominated sport.
At the age of 21, Noémie currently competes in the French Freeride World Qualifier (FWQ), a highly-esteemed freeride competition that gathers the greatest riders from across the globe to participate in a series of extremely technical and challenging ski disciplines on some of the world's toughest terrain.
As 'the sister' competition to the Freeride World Tour (FWT), the FWQ is the intermediate level of three competitions in these world-class events – and is seen as just as 'male heavy'. Whereas the top 3 male contestants are already – in comparison – greatly celebrated throughout the media and across the globe, the female entrants are not as renowned.
You'll find profiles of the headliners and bigger names, such as Travis Rice and France's Leo Slemett, but not so much insight into the just-as-inspiring lives of our other industry heros and heroines. So, without further ado, let's find out more about our local legend, Noémie Lemaire.
DISCOVERING HER PASSION
Originally from the Vosges, Noémie started skiing at the age of two. After quickly finding her feet in all-things-ski, she continues to pass each ski-milestone and career checkpoint with gusto.
At the tender age of 7, Noémie entered her first competition, where she finished in second place and from there quickly gained attention in the Pôle Espoir, FIS races as well as numerous inter-school competition.
Just 10 years later, at 17, Noémie decided to take her technical and performance ski-teaching exams. She passed these strict and notoriously difficult exams with flying colours and thanks to the extra points she'd already accumulated through her FIS competitions, she was automatically awarded her Eurotest qualification too.
At 19, Noémie became a coach for the departmental committee of the Bas Rhin. Balancing now her work with not only personal training, studying full-time at STAPS University in Strasbourg but also ski teaching, Noémie struggled to find the time and energy for anything else.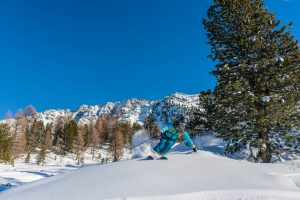 "In between the competitions, my studies and coaching my team, it was pretty hard to find the time to explore other ski disciplines. And to be fair, it was probably made harder because the off-piste in Vosges isn't that great either", says Noémie with a smile.
DEDICATION AND DISCIPLINES
For 3 years Noémie struggled to balance her busy schedule. As her desire to explore other ski disciplines grew, she decided it best to unroll from her studies at STAPS and instead concentrate on finding the courses and better-suited terrain for developing her freeride and expert-specific ski skills.
"I wanted to continue competing so much and it was hard because of that. I knew I was missing the excitement of being at the top of the mountain, choosing my own lines and the thrill of the competition", says Noémie.
"After many years of competing, it's difficult to quit – especially when you know it's because of time over ability. The butterflies, the adrenaline, the accomplishment; being surrounded by natural beauty, fascinating terrain and immersed in unpredictable weather and conditions – it's all incredible."
About 2 years ago Noémie decided to qualify as a sailing instructor to help fund her passion during the summer months and, ultimately, realise her true potential. Since then, each summer is spent earning on the boats in Gruissan, while remaining physically active and outdoors. Throughout the quieter months, Noémie continues her training, which includes a mix of strenuous cross-country cycling over the French Alps during the dry months and relentless ski challenges, competing and teaching amid the cold.
Since finishing at STAPS, Noémie has freed up more time to enjoy, practice and train in other ski disciplines, including freeride around Europe and much further afield. This year, she decided to fully commit to the sport by registering and competing in the Freeride World Qualifier 2017.
After the competition, she'll return to studying to finish her diploma, which includes further ski instructor training and working towards a double qualification in sailing at the DEUST (University Studies Section of Activities of Full Nature) in Lyon. As this is a part-time course, Noémie is set to obtain her diploma in June and hopefully become fully qualified as a ski instructor within the 2 coming years.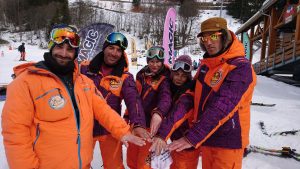 FIRST STEPS IN FREERIDE
"It may surprise you, but in my opinion, freeride events are no more dangerous than slalom competitions. At full speed, the piste can appear just as dangerous, if not more so than an off-piste route I've picked from the bottom of the mountain", says Noémie.
"I love the mix of professionalism and sportism that you find in freeride competitions."
According to Noémie, due to the size, expanse and of course expense of the competition, it's not actually compulsory to race in each event in every country. "I think the flexibility of this makes it more relaxed, while still offering a truly immense challenge to those who can dedicate themselves to the whole process. If you want to enter for France, however, you are required to participate in everything as you're after the most points."
"As I don't have as much experience in freeriding compared to the FWT contestants, the FWQ is perfect for this stage in my life", says Noémie.
"On the whole, I don't really stress too much about it as generally the FWQ is a bit more relaxed and I've always seen freeriding as 'time for me'. It's a great way to improve my skills and get to know key industry names and faces."
Noémie's been training for the FWQ with fellow competitor and Magic instructor, Florent Jauffred. "It was great to go out with Florent and get some advice", says Noémie. "Florent won first place in the French ranking of the FWQ 2016, so he knows a thing or two. He hopes to gain some high points throughout the stages this season and is in Nendaz next week to complete one of the last tests."
THE FWQ'S FAQ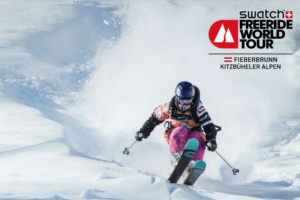 What is the FWQ?
The Freeride World Qualifier is a tour of independent freeride events that runs throughout the season and across the world.
How is it judged?
Through a unique system of points and specialist disciplines.
The races are rated from 1 to 4 stars depending on their levels.
Contestants begin at 1 star (equalling 50 points) and will gain or lose points through each event.
The judging categories include: chosen line, risk involved, speed, jumps and tricks, the fluidity and confidence of your riding, as well as any penalties for falls etc.
Those with the most points will progress to obtain their 2nd star, then 3rd and so on.
Where is it held?
This year Noémie's French 2nd-star races were held in Vars, Les Arcs, Courmayeur and Chamonix. For more information on the other destinations, see the FWQ website.
What does it involve?
All slopes that are selected for the competition are open to both men and women and each contestant chooses their line from the bottom of the piste.
"We walk up to our starting point after choosing our line from the bottom. This is the hardest part for me, as it can be difficult to judge the true gradient of the slope until you're up there – standing on the edge!", explains Noémie. "We each start with 50 points and will either win more or lose them depending on how well we execute the run, including our choice of line, jumps, speed, commitment, technique, if we've hit any rocks etc. If we fall but remain attached in our skis, we can continue, but as soon as our boot is out of the binding, it's game over and we'll be disqualified."
Psst: Thanks to the Fun Bet and organised by PeakPerformance, the FWT offers the chance to bet on your favourite riders. Why not show your support and put your faith in Noémie and bet on her to win next season…
NEXT SEASON
In true Noémie fashion, she's after more next season. "I'm looking forward to taking what I've learnt from this year's competition and really put it into practise. I'm aiming to jump to the next level, the 3 stars and hopefully enter all the rounds in France, Switzerland and Austria too."
It's certainly clear by now that to get to the top of the ski industry, athletes require a huge amount of determination, dedication and funding (it costs between €100 and €150 to register for each race and that doesn't even include the travel, equipment, food, accommodation etc.) – and that's before even considering talent.
"Yeah, it's a tough line to say the least", comments Noémie with a grin. "But just with the actual freeride events, I wouldn't choose any other – the challenge is all part of the fun."
Noémie's started planning her new training regime for next year. "I usually spend the autumns training, going out on my mountain bike and cycling across the mountains, but next inter-season I'm going to push further to get back on track and put myself ahead of the game. Abs, muscle building, cardio and willpower are my focus for 2017", says Noémie.
A NOTE FOR WOMEN
© Rémi NGuyen Cao
Noémie hopes that her story will inspire aspiring female skiers to continue to push their own personal boundaries, while also promoting women's ski accomplishments and a positive change in the gender gap. Through her own appreciation of local female skiers, including the likes of Marie Martinod from La Plagne, or Tessa Worley from the Grand Bornand, comes the motivation to truly achieve what most believe is impossible.
Wonderful women are all around us and together we can help 'continue bridging the gap' by opening our eyes and living our dreams. Let's follow our beloved Magic instructor, come FWQ contestant, come inspirational young lady's example and #BeBoldForChange.
#BeBoldForChange #WomensPride #IWD2017
Author: Marion Clerc