Here is young and fun Lorys from La Plagne…
Name: Lorys
Nationality: French
Nickname: Lolo
Resort: La Plagne
Teaches: Ski & snowboard
Favourite skis: Rossignol skis – I've skied with this brand since I was a little boy. Actually, I've never really tried any other brand since Rossignol skis have always suited me.
Favourite piste in La Plagne: 'Les Sources', a red run which starts from the Roche de Mio. It's quite easy to ski down and the view is great.
Favourite place to ski on days off: The North Face, you have the impression of being away from it all, far from all the groomed slopes and La Plagne's classic ski area.
Dream ski destination: Aslaska for its steep slopes and the possibility to ski all the way to the sea!
Favourite food: Burgers, because they are full of fat and after a day of work there is nothing that tastes better!
When did you learn to ski? I was two and a half when my dad held me at the end of a ski pole to teach me how to ski at Saint-Jean Montclar, a small ski resort in the North Alps.
Why did you become a ski instructor? After years of ski racing becoming a ski instructor was the next step. So at the age of 17 I started teaching.
How long have you been in La Plagne? I arrived here last year as a trainee instructor. My university had a partnership with Oxygène, which meant I could partially work as an instructor and partially work in the ski shop. The experience was great as it allowed me to see how things worked 'behind the scenes'. Last year was such a great experience that I decided to come back for another year.
Which is your favourite restaurant in La Plagne? Le Petit Chaperon Rouge in Plagne 1800, I discovered this place last year and they definitely make the best burgers in the resort!
What's the best thing about your job? Seeing my customers progress and see the smile on their face when they know they have just got better at skiing. I also like challenging myself in my profession and finding new teaching techniques.
… and the worst? Snowy weather! I always prefer to teach when it's sunny to work on my goggle tan. Snow and fog at the same time is not my favourite.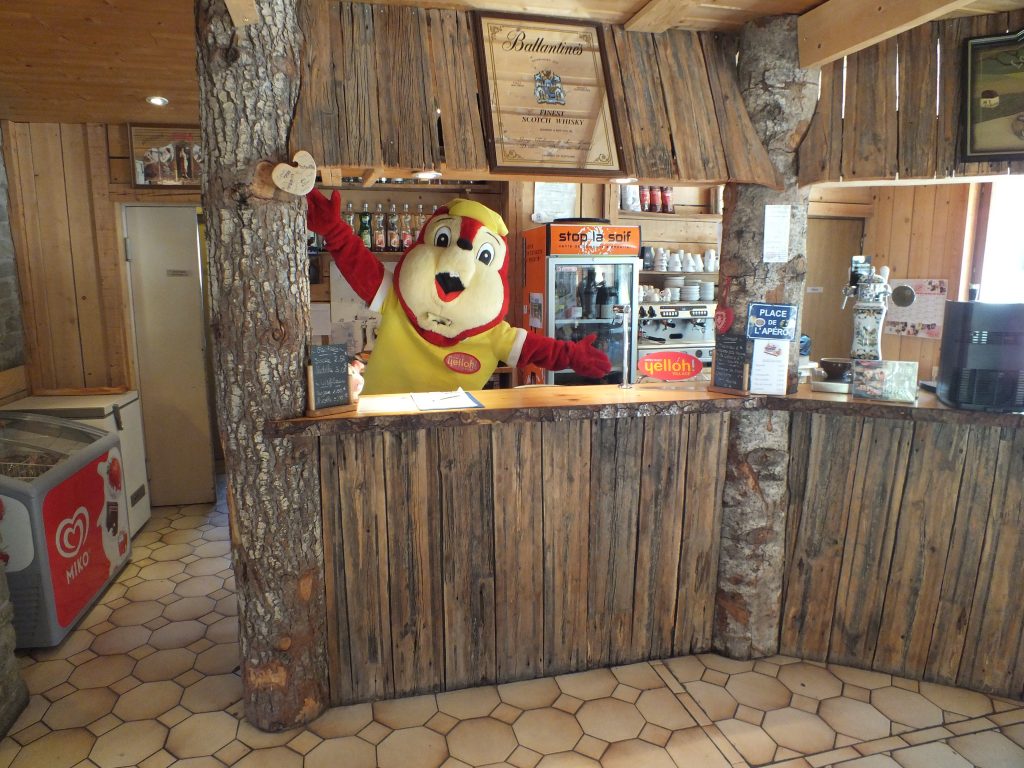 Which are your favourite lessons to teach? I like to teach adults how to ski. I prefer skiing because I used to ski race and adults because conversation comes easily.
What's your worst memory as a ski instructor? Oh, it was my first year of teaching 4 years ago… I got caught by my own client in the legs and slid down the entire slope on my bum.
What are your other hobbies besides skiing? Mountain biking: Downhill, Cross Country… It's a great way to catch up with my friends and cousins and we always have a great laugh. But I also love the beach…
What do you do in summer? I'm a bartender at my parent's campsite. I enjoy working there and I even get to dress up as a squirrel, but I must say that after 2 months I look forward to being a ski instructor again.
Summer or winter? Both winter and summer. Winter because I love skiing and summer because there are so many activities to do. It's always nice to have a change after the winter, it means we can continue to enjoy the snow year after year.