Building its business from Moutiers in the heart of the Tarentaise
Moving into the valley to grow in resort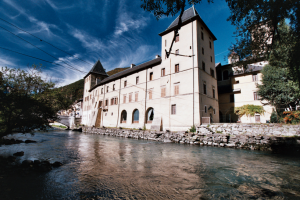 In 2016 Oxygène Ski School bought 3 Valleys ski school, Magic in Motion and simultaneously opened a new central office in Moutiers to house a small sales and marketing team. "There were four of us when the office opened in September 2016, two in the reservations department; Megan and Lily, and two in marketing; Vivienne and myself", said Marion, in charge of digital communications. "Now we have moved into a much larger office, with about 10 of us working together on a daily basis, sometimes more when we have our inter-resort meetings."
The Moutiers team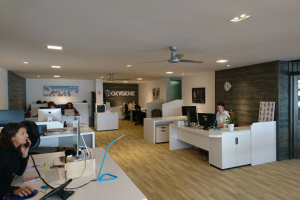 Strong by virtue of its plethora of skills, our Moutiers team is an all-female affair, hailing from the four corners of the earth including New Zealand and the UK with a few local Savoyards thrown in for good measure.
In the reservations team we have Magic Carol, known for being a great Meribel enthusiast having worked there for more than 10 years. Megan, originally from New Zealand and formerly employed by Tour Operator VIP Ski, heads up the sales team. She works hand in hand with the youngest recruit in the office, Marion, who has recently left her home in Alsace in the north of France to become more acquainted with our beautiful region.
The marketing team comprises a second Marion who you can also find on Facebook using the handle 'Marion Oxygène'; Vivienne, a bilingual Brit, who is in charge of the contracting and marketing team for the group and Heather, our Communications Coordinator originally from Wales and the former co-owner of the Alpine Ethos chalet business in Meribel.

Business management is up to Sue and Emma. Sue has been a member of the Meribel team since 1992 and is responsible for Oxygène's accounts. And last but not least Emma manages the teams and operations in the 3 Valleys resorts.
"We wanted an open plan office to improve communication between the team" said Bertrand, one of Oxygène's founding directors. "Our team is better connected now and can better respond to the needs and requests of our clients."
A new look for our resort offices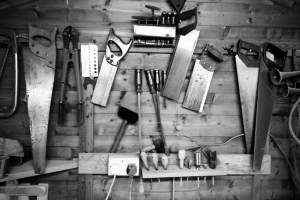 With the renovations at our headquarters in Moutiers completed, the teams have started work giving our all-important in-resort offices a fresh new look and feel. Julien, Oxygène resort manager in Belle Plagne during the winter and interior designer in the summer months, says that the purchase and renovation of the Moutiers office was pretty intense but that he and his team have already started work on their other projects namely the renovation of the Oxygène offices in Meribel, La Plagne and Val d'Isère. "There is still a lot of work to do to provide our in-resort teams with their new look offices. But we're on-site and working around the clock" says Julien, paintbrush in hand.
The offices in Courchevel, La Tania, Val Thorens and Les Menuires will remain as before albeit with new blue Oxygène signage in place of the old orange Magic livery. Our in-resort teams can't wait to get to resort and start welcoming everyone into their offices. Find out where our offices are on our website and why not drop by and say hi this winter?