Floriane Vintras had an opportunity to go on a skiing holiday this Christmas therefore she jumped on the chance. However, more specifically she learnt how to sit-ski by taking adaptive ski lessons with Oxygene in La Plagne! Floriane is an Instagram blogger who talks about her life journey and her disability. Through her Instagram influence she hopes to raise awareness and deconstruct stereotypes of disabled people. After 3 days of intense sit-skiing, we finally sat down together for a chat. Floriane filled us in on her background and her Oxygene adaptive ski experience. Read on…
Hi Floriane. Could you tell us a bit more about you and your disability?
"Yes, hi, I am a communication manager for a start-up company and I'm an Instagram blogger. On my page I share a lot of things about my daily life. The idea is to show the reality of my disability and help restore confidence to all those with disabilities. I share tips, for instance I show how to travel, how to do sports like going skiing, I play tennis, go horse riding and even wakeboard in the summer.
I am in a wheelchair because I have incomplete paraplegia, I have no sensitivity from the ankles down following a malformation of my spinal cord. A medical error has also been made, plus falling from a horse also caused a broken hip and a femur displacement. I also have rheumatoid arthritis, which is an autoimmune disease, and fibromyalgia, which causes joint and tendon pain, especially in the upper body. As you can see there is an accumulation of things that have put me in a wheelchair today. I have been in my chair for 6 years now. Before I was able to move around on crutches, but I realised I could do a lot more things in a wheelchair and be more independent too."
How did you find out about Oxygene?
"It was a friend who recommended Oxygene to me. After doing my research I saw you were highly rated on the internet. I found your adaptive ski programme was more integrated and I got the impression your team has been trained to a high level. In addition I also found Oxygène to be more disabled-oriented than other ski schools."
What would you say to someone with a disability?
"It really depends on the situation. For example, a person who has just had an accident may tell themselves that their life is over because they fear the aftermath, but I'm here to tell them it's not the end! On my Instagram page I share information about what I would have liked to have seen a few years ago. Social networks were not very advanced back then and I would've liked to have had more to learn and be inspired from, someone to explain it still is possible to be active, independent and athletic. I sometimes receive messages of thanks, which makes me feel good and I know what I am doing is helping"
Do you think your Instagram account helps give more visibility to people with disabilities?
"Yes, we are starting to have a nice community. The more visible we are, the more we will be able to de-dramatised and give another view to disabilities. My account allows you to see behind the scenes. On Instagram, it's good to show the positives, but it's also important to show how we got there, with sometimes difficulties. I've made quite a few media appearances and I also participated in a campaign called "See the person before the disability". The campaign showed that we have hobbies, interests and skills before having a disability".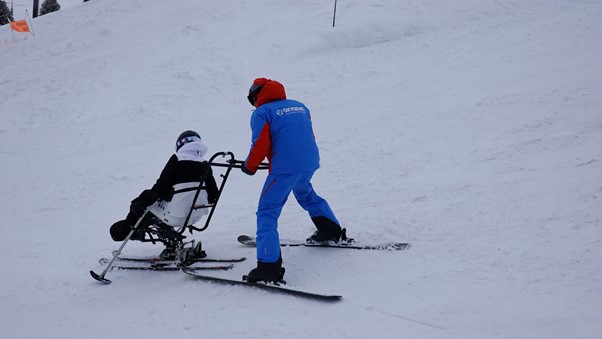 What do you think about the La Plagne resort for wheelchair users?
"Overall, La Plagne is an accessible resort with a lot of easy access routes, this makes getting around a lot easier. I am equipped with a mini scooter that I clip onto the front of my chair, it helps me to move around more easily. I stayed at the HO36 hostel where everything is quite well adapted. There were some tricky places for me to enter, however overall I have heard La Plagne is more accessible than many other resorts."
How did the lessons go with your instructor and would you like to continue sit-skiing?
"My adaptive ski lessons went very well. Indeed, Fred was great and he taught me a lot. One of the first and most vital things he taught was to find my own balance. 5 years ago was the last time I did sit-skiing and I was not pushed to ski interdependently. On the opposite, Fred favoured maximum autonomy, allowing me to comfortably see how far I could go, but by also being there to build my confidence. At the beginning I was tense and a little apprehensive, but by the end I felt more comfortable. In conclusion, if Fred is available, I will definitely take lessons with him again. It's better this way as now he knows me and I know him."
How was the booking process, from the first contact all the way to your ski lessons?
"It was really quick. They asked me a number of questions at the beginning to find out what equipment I was going to need and after that everything was very well explained."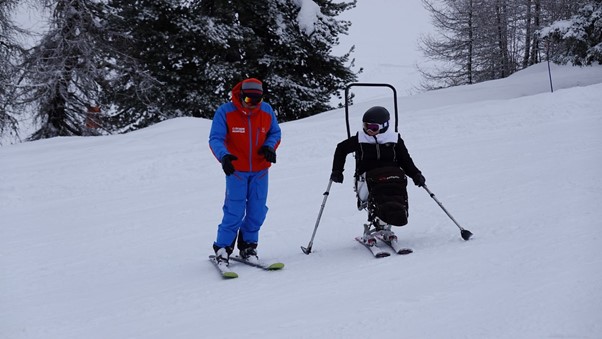 Do you feel you have progressed and become more independent at the end of these 3 days and what did you enjoy the most while skiing?
"Yes, 100%, especially based on yesterday's lesson. On the last run I even managed to do the Bergerie piste almost by myself! I loved the sensation when I picked up some speed! I must say the turns were a little more complicated though. But what I loved the most was when my instructor was guiding me and we went super fast!"
What is your best memory of these 3 days?
"Easy, the first piste I did practically by myself, it was definitely one of my proudest moments!".
You can see more of Floriane's adventures on Instagram : @floriane.vnt
You can find more information on our adaptive ski programme or contact our office directly: