It's spring! In the mountains this means spring snow, ski touring, end of season sales, festivals, concerts and chilling out on sunny terraces. Discover the best of the end of the ski season in the Savoie.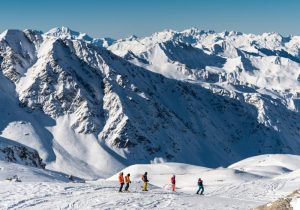 Hello spring. Our bi-annual clock-changing ritual is upon us once more and as we prep for changing the clocks and step into the sunny delights of spring, we've rounded up our favourite slushy-ski activities to reassure you that the season isn't over yet.
The changing of the clocks in spring marks the start of longer evenings across the continent as our clocks 'spring forward' and we prepare for the upcoming summer months. In the mountains, spring occurs during the final 6 weeks of the ski season and is synonymous with slush, sunny blue-bird ski days, spring discounts, end-of-season festivals and much more.
SPRING SKIING
Spring is one of our favourite seasons in resort. With warm sunny days that allow for long lunches on the terrace and just-off-the-piste picnics, there's plenty of opportunity to play and socialise in the sun. But with the warmth, comes the start of the decline of the snow. Okay, so the days of hunting fresh powder and venturing off piste may be thinner on the ground than the snowfall expectations, but don't fret dear ski lover; it's not over yet and there's still plenty to do.
To find out exactly what happens to our snow during the spring, we spoke to Bertrand, the Director and Instructor of Oxygène in La Plagne.
"As the snow is warmed by the sun, it's structure changes from light and fluffy to slushy and heavy. During the spring, the temperatures typically drop in the evenings to around zero, so this slushy and wet snow will then freeze again at night, hardening it up again for the next day."
According to Bertrand, if you're a skier, springtime mornings are usually your best bet for a great shred. "Because the snow is still cold and solid from the night before, it's normally easier for skiers to keep their technique and speed in the mornings", continues Bertrand. "When the snow is firm, compact and icy, the skis glide over the piste instead of plunging into the deep snow or slush. This means you're less likely to catch an edge or spend your run dodging moguls."
SKI TOURING
Morning springtime shreds typically pose less risk of avalanches and so heralds a great time to try off-piste. Because the snow is frozen and compact in the morning, it is normally bonded better to the ground beneath and thus doesn't pose as much of an avalanche risk. After lunch, the day's warmth melts the snow and it starts to separate from the base, increasing the avalanche risk and transforming the snow back to heavy slush. So leave early and start your climb before everyone else starts to stir. The frozen snow is actually easier to climb without expending too much energy because your skis don't sink like they do in powder.
Psst: Why not enjoy the mountain at its best and sign up for a ski touring session? It provides the perfect excuse to wake up early, hike up before the first sunbeams touch the summits, and enjoy the peace and true beauty of the mountains away from the crowds.

AFTERNOONS MADE FOR SNOWBOARDING
For those who prefer to tackle the mountain with two feet attached to one board, the afternoon slush is your friend, providing a pretty lush opportunity to practice those jibs and tricks. As the landing and snow-terrain is much softer after lunch, it's the perfect time for snowboard beginners in particular to try something new with a lower risk of injury.
"Think of afternoon slushy snow as a shock absorber", continues Bertrand. "Because of the warmth, it's not as compact and therefore provides a more forgiving landing, so is a great time for snowboarders to start testing out their freestyle skills in the park."
SPRING-SEASON GRUB
After a morning or afternoon dodging spring moguls and slush carving, it's time for some well-earned grub and a refuel stop in the sun. Luckily for you, there are lots of sunny mountaintop venues and a variety of cuisines to choose from across the Tarentaise resorts.
So, you've grabbed a beer, found a convenient deckchair and are now soaking up the rays (aka working on your goggle tan) on that sunny terrace. Bliss. Why not try out some of the local cuisine and opt for a local delicacy, such as March-time morels?
Sprouting fresh from the snow at the end of March and served up until the beginning of June, morel mushrooms [les morilles in French] belong to a family of edible and delicious fungi, renowned in France for both texture and taste. Foraged by locals, skiers and hikers from across the region, morels are available to buy dried or fresh from local markets and supermarkets from early spring.
Psst: Look for mushrooms that have white-to-ivory coloured stems and conical caps and try adding them to risottos, fondue or even on the BBQ. Oh, and for those headed to Val D'Isere, why not check out La Peau de Vache's incredible meat, morel and foie gras burgers? They're not to be missed!
PRIME TIME FOR BARGAINS
Did you know that spring is the prime time to grab some in-resort bargains? From restaurant deals to unbelievable ski-equipment discounts, the end-of-season price drop thankfully makes in-resort entertainment a bit lighter on those purse-strings.
A great excuse for swapping the old for the new, spring is the perfect time to consider investing in new ski equipment. As many of the ski and rental shops in the more expensive resorts change their rental material every spring, many will reduce the current season's models to make way for new stock.
The more they have to sell, the better the deal. So, keep your eyes peeled from this point on. The spring price war spans across each ski resort in the Tarentaise, with the majority of local shops and businesses reducing their stock to at least 30% off but often more.
ANNUAL SPRING EVENTS
From live outdoor concerts, family activity days, races and competitions, to golf, skiing, apres-ski, cinema showings and end-of-season parties, there's lots for the diary this spring. Here's a glimpse of some of the events that we're interested in this March and April in the Tarentaise.
LA TANIA / MERIBEL
For an afternoon of family friendly games, face-painting, good food, great tunes and plenty of laughter, head to the snow front in Meribel Village for the 3 Valleys Charity Day. You can expect fancy dress, a line up of great bands and DJs, bbq stalls, bars and more. Find out everything you need to know on the 3V Charity Day Facebook page. All profits are split between two great cancer-fighting charities.
LA PLAGNE
Subli'Cîmes is back! Subli'Cîmes is a free, week-long celebration made up of 6 individually-themed parties across the summits of La Plagne. There is something for everyone, see for yourself.
VAL D'ISERE
Val d'Isère's International Adventure and Discovery Film Festival judges some of the best movies from across the world, which truly explore the highs and lows of extreme sports and adventure. With films covering topics such as wildlife, starry skies and Nepal's most precious landscapes and highest mountains, you're spoilt for choice. And once you are in complete awe thanks to these incredible movies, you can go on your own adventure: give ski touring a go during the Ski Touring Village event. Oxygene instructors will take you on a ski touring clinic to give you the chance to enjoy the silence of the often forgotten parts of the ski area.
TIGNES
Live in Tignes by Francofolies is a must-see if you are in resort for the late season. From 13:30 to 22:30, Tignes le Lac snowfront hosts a big stage with world class artists such as Shaka Ponk, LEJ, Patrice, Cats on Trees, Boulevard des Airs and more. 3 days of live music, for little peeps and grown-ups too!
VAL THORENS
Val Thorens has hosted Dutch Week for over a decade now. It's a family friendly week of fun, activities, ski and snowboard testing and free concerts on the slopes at the end of April.
The choice is yours so what are you waiting for? Join us in one of our resorts across the Tarentaise to make the most of the events on offer to celebrate the spring.