TOP 6 ACTIVITIES FOR NON-SKIERS IN VAL D'ISERE
According to new research, over a million Brits enter ski resorts each year without even planning to put on a pair of skis. We've seen it first hand.
For one reason or another, some of Val's visitors aren't able to – or don't want to – ski. And that is A-OK. Maybe your skiing days are over or you're injured? Perhaps skiing just isn't 'your thing'? Whatever the reason, we can help starve off the boredom. Our winter wonderland provides a plethora of fantastic things to do and see that don't involve hurtling down the hill on a couple of planks.
If you're still up for an adventure, check out our top 6 intrepid alternatives to skiing in the infographic below. Alternatively, if this is your one chance to relax and take a good long inhale of fresh mountain air, read on for the definitive guide to chilling in Val.

TAKE A HIKE
Whether you're looking for a gentle stroll or something a bit more extreme, our breathtaking landscape offers a wide-array of multi-ability routes for a truly cracking walk.
For a relatively easy jaunt, try meandering up the Fornet Valley, along a stretch of the Col de l'Iseran (the highest paved mountain pass in the Alps). A complete sun trap, the path along the Isere river – from which Val d'Isere gets its name – provides a fantastic opportunity to see down the valley and into the centre of town. There are some beautiful bridges and remnants of refuges to check out on the way.
If you fancy experiencing an higher altitude and the gateway to more magnificent views, head to the Liftpass Office at the bottom of the Face de Bellevarde, where you can buy a reduced price pass (this is free if you're lucky enough to be over the age of 75). This grants you access onto the Solaise, Olympique, Fornet, La Daille and Le Vallon Cable cars/gondolas, from where you are able to walk much higher up.
For more detailed walking routes, head to valdinet.com.
Psst: We recommend going up with a guide on snowshoes to get the best out of the area. Ask in our Oxygène store for more details.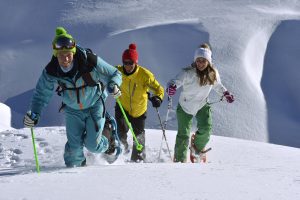 ON TOUR
Val d'Isère's Office du Tourisme offers some fascinating tours of various aspects of life in the town and mountains. From Guided Walks around the ancient chapels of the local hamlets, to an insightful talk and tour from the pisteurs involved in Avalanche Detonating; learn about the history and current methods of keeping our pistes and mountain villages safe. The tours vary dependent on dates, so have a look on the valdisere.com website and just book in the day before.
FOOD FOR THOUGHT
Alpine food is renowned for it's richness and flavour, so if you're meeting friends or family on the mountain, the options are plentiful.
Le Bellevarde (at the top of the Olympique gondola) is a great restaurant with panoramic views across the Bellevarde ski area. Meanwhile, in the opposite direction, La Tête de Solaise sits a short walk down from the brand new Solaise bubble. With a top-notch à-la-carte menu and the comfiest deck chairs this side of St Tropez, you won't regret meeting up here. Over at the top of the Fornet cable car, you'll find Les Crozets, a self-service restaurant, which – with its huge exterior balcony and snug inside wood-burners – is perfect in snow or shine. Looking for a romantic lunch spot? La Peau de Vache is a great option, Ollie our Oxygène bear and his girlfriend enjoyed it.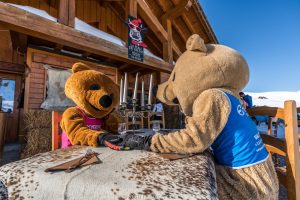 HAPPY APRES
Just because you're not skiing, it doesn't mean you can't party. Hell, if anything, you'll have even more time to throw some moves.
As mentioned above, you can purchase reduced-price walkers' passes at the Liftpass Office, which has the added benefit of allowing you direct access to La Folie Douce from the La Daille gondola, with barely any walking required. The cabaret-style show over lunch is a sight to behold.
Stunning costumes mixed with slick choreography and Val's favourite diva in 6-inch heels, Kelly Starlight, will leave you wanting to clamber on stage and get your boogie on. But you'll have to wait until about 3pm before the party really gets started. If by the time this crazy joint closes you still have some shapes to throw (and let's be honest, who doesn't?), simply take the lift back down and then the bus to Coco Rico, right next to Le Rond Point des Pistes. Rest assured, even if you can't see it, you'll hear it. This is where après hits its peak, with live bands, fire and magnums galore.
RETAIL THERAPY
In our humble opinion, for a quintessential mountain-village shopping experience, nothing beats the Monday market. The local cheese and saucisson are to die for and make an excellent present for those at home (although speaking from experience, perhaps don't store it in your main bag for the journey back). You can also enjoy sweets, clothing and the most delicious chicken you will ever put in your mouth. Find the 'Chicken Man' (as he is affectionately known) opposite the Moris Pub. Open throughout the week, Val d'Isere's specialist boutiques, which line the main street, are great for souvenirs and ski-gear.
EVERYTHING ELSE
Even if you stick within the confines of Val d'Isere centre, you'll find plenty of leisurely goings-on to keep you occupied.
The Aquasportif, which includes a great pool and luxurious spa, is perfect for winding down after a bit of trekking. The culture vultures will be suitably enthralled by the weekly concerts on show at the Maison du Val (check out what's on).
And finally, Val's outdoor ice rink (located on the road between Dick's Tea Bar and main road) is a fantastic family escapade where you can hire skates, or just enjoy the spectacle from 2pm-7pm every day.
For more information on what's on in Val d'Isère, check out A breath of Fresh Air.
For more extreme adventures, see our infographic below.