START AS YOU MEAN TO GO ON – VAL D'ISERE
The start of the season is well and truly underway. After a series of opening parties; it's safe to say that our bodies, heads and livers are once again adapting to the 'Val d'Isère way'. Unfortunately, the same cannot be said for the old legs and bum, which inevitably start screaming any time we attempt to venture off-piste. If only we'd started those ski-fit exercises mum kept banging on about…
Fear not; it's not too late.
We've put together 7 top tips and tricks for fitness, health and wellness in Val D'Isère, including the best places to rest and eat.

IF YOU'RE FEELING THE BURN.

Soothe your hangover and shaky ski-legs and take a trip to the Centre Aquasportif on the Rue de Balme. A fantastically well-equipped gym, pool and spa; seasonaires are strongly advised to get their hands on a Val d'Isère card from the Maison du Val, which allows you to buy a gym season pass for just €189.
Psst: The Val d'Isère card also gets you off the mountain for free if you have an accident and gives you a 10% discount in Sherpa and Spar; so it's definitely worth the €28 investment.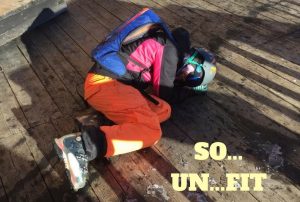 STRETCH DON'T SNAP.

Not helped by the copious amounts of delicious cheese and alcohol on offer, it can be all too easy to pile on those extra 'chalet-girl' pounds. Get up and out onto the mountain – the biggest, most enjoyable gym nature has to offer; it's time to work up a sweat. Before you do, we recommend putting aside just 20 minutes a day – 10 before you start skiing and 10 'après ski' – to stretch, warm-up and cool down. Not only can this help in the prevention of injury, but, it can also work wonders for aiding your ski technique.
Psst: If we're too late and the stiffness has already hit; unwind and treat yourself to a massage at the spa or an hour in the sauna. Centre AquaSportif has a great range of packages and treatments on offer, designed specifically to soothe those tired muscles.
YOU ARE WHAT YOU EAT.

Chuck away those tissues and stock up on some good ol' hearty grub. It's the same every year; whether seasonnaire or tourists' flu, the influx of international germs seems to catch us off-guard. Avoid those chesty coughs, dribbling noses and banging heads, and do yourself a favour by stocking up on some fruit and veg.
Head to Arctic Café, a boutique cafe that offers a variety of 'absolutely divine' healthy and nutritious food for breakfast, lunch and dinner – and the Pad Thai in 4 Seasons is crammed with vegetables.
For those with a little more cash to splash and who have not yet succumbed to 'the Val d'Isease'; Le Lodge was recently treated to a massive refurbishment, but kept its typical Savoyarde menu, which you really can't go wrong with. In a similar price-range is La Baraque, near the bus station and by far the most popular place to eat for the locals.
PREPARE FOR APRES.

If you're planning to 'go big' with après, stay in control and head up the hill to experience food with the ultimate view. Great for lining your stomach before the alcohol hits, Les Marmots and La Cascade are on-the-hill restaurants that serve cheap, cheerful and pretty darn tasty grub. Both run by the same company, these self-service restaurants offer classic mountain food like pasta, pizza and the ever so healthy option – Tartiflette, a traditional Savoyarde dish of potato, cream, local Reblochon cheese and lardons.
For something a little fancier, La Fruitiere at Folie Douce has a mouth-watering selection of choices including oysters, veal and foie gras.
Psst: While the food is excellent, it does get busy there, so for something a little more out the way and with lovely views over Val d'Isère, try La Peau de Vache, half way down la Face and currently rated number 1 on TripAdvisor for restaurants in the area.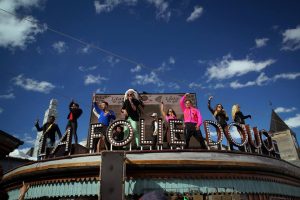 DANCE 'TILL YOU DROP.

After a sumptuous meal, a bit of a boogie should help prevent too hefty a cheese belly. Thankfully for those dancing queens out there, Val d'Isere's après-reputation is building fast and is planned to be in full swing with the opening parties of La Folie Douce and Coco Rico on Wednesday 7th December. It'll be an utterly mad day, so get ready for 5 hours of your best table dancing. Just make sure you pace yourself and keep hydrated (with water… not beer). You might be feeling the chill higher up, but it's surprising how much you'll still be sweating. Combine that with the diuretic effect of alcohol and if you want any chance of avoiding a hangover; you'd be wise to bring a couple of water bottles up with you.
WATCH AND LEARN.

The beginning of the season is particularly exciting in Val d'Isere. Look forward to the Criterium de la Première Neige, which treats the valley to the first round of the racing World Cup. Home to this, as well as some really fantastic alpine-sporting events throughout the season, La Face is a notoriously difficult black-run and perfect for alpine athletes, enthusiasts and spectators.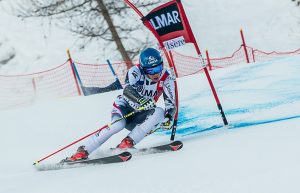 Psst: Watch and learn from the best by popping down to the Men's Giant Slalom and Slalom on the 10th to 11th December and the Women's Alpine Combined, Downhill and Super G races from 16th to 18th December 2016.

CELEBRATE THE TALENT.

The main road in Val d'Isere centre will play host to street parties on Friday and Saturday evenings with fireworks, live-bands and street performers, plus some pretty incredible ice sculpting, which you won't be able to miss.
Psst: Val d'Isere centre will be inaccessible to traffic on Friday and Saturday evenings. Don't worry, there is a free bus-shuttle service available within the resort.
Make the most of all Val D'Isère has to offer, and start as you mean to go on.
crédit photo: Kene Ezeji-Okoye