10 ITEMS YOU CAN'T AND WON'T SKI WITHOUT THIS WINTER.
Some people are super organised (or just over excited) and start packing a week before their holiday, where others just throw things in their suitcase last minute. Whatever your packing preference and style, this list is for you.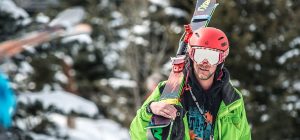 5 SUPRISING THINGS YOU MUSTN'T LEAVE AT HOME:
SUNSCREEN
This item is normally associated with summer holidays, but believe it or not, you'll be needing it daily on the mountain. Even on a cloudy day, strong UV rays are reflected by the snow and without protection you are sure to end up: a) with a bad-ass goggle tan that only looks cool if you're in the mountains and is sure to turn heads the wrong way back in the office; and/or b) a lovely shade of rouge and in heaps of pain.
We swear by Piz Buin's factor 50 – and though this may sound a tad melodramatic – it does the trick.
SWIMWEAR
Why, you ask? One of the best ways to relax after a long day carving up the slopes is in your chalet's hot tub. Soak in the stunning scenery, soothe those aching muscles and top off your day with a well-deserved demi or glass of vino. You'll thank us later.  
Did you know that DC also make swimwear? Check out their latest range and look as hot as you feel.
SUNNIES
And again. A summer accessory. But when it's sunny in the mountains, it's very sunny, so you'll wanna protect your eyes from those pesky UV rays. Plus, if you've ever seen pictures of après parties, you'll know it's a must-have-look for the ski-scene.
You can design your very own ones online with Melon and get them delivered before your holiday. And don't stress if you forget; there's always an Intersport in resort.
ONESIE
This may sound odd, but here in the mountains it's as common to see someone dressed up in a gorilla onesie as it is to see stags in Newquay wear mankinis (before they get banned of course). Whether you choose to wear it in the bars, on the slopes or snuggle up in the privacy of your own chalet, your holiday just won't be the same without it.
We love the original Onepiece. Dressing winter-lovers since 2007, Onepiece provides the ultimate winter wear to keep you warm and on-trend this season.
TEA BAGS
We all know the British can't survive a day without a good cuppa, let alone a whole week. If you've booked a fully-catered holiday, then no need to panic as the tour operators are one step ahead and fill-up their dry stores with bags and bags of the stuff. If, however, you've chosen self-catered, this is a must. Imagine a cosy evening by the fire or an early morning pre-ski without a nice cup of tea. No. Just no..
We're thirsty for Yorkshire Tea – our favourite English treat. Go on, 'Let's have a proper brew'.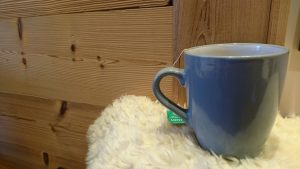 5 NECESSITIES YOU WON'T WANNA DO WITHOUT:
BEANIES
Let's start with the most obvious. When you think of winter you think of snow, scarves, gloves and hats. It's cold in the mountains. And beanies are warm. And also very cool. The ultimate après accessory in fact. You can never have too many beanies as you'll always lose them, and – if you're a serial winter holidaymaker – you'll want a different one to co-ordinate with each outfit.
Psst: This season, we're loving the new xmas-themed prints from Picture's beanie collection. Let's keep that noggin' warm.
HOODIES
There's nothing better than snuggling up in a huge hoodie on the couch in front of the fire, or throwing one on over all your layers before hitting the slopes or town. If you only bring shirts and cardigans you will have wardrobe envy. Fact.
So, whether it's your boyfriend's oversized jumper or your favourite Bro tall hoodie, you can't go wrong.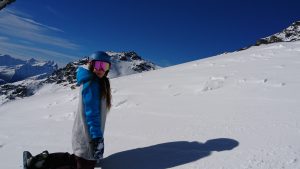 YOUR GOPRO
Our winter holidays are packed full of so many amazing experiences, it would be a real shame to miss out on capturing the best moments. There's nothing better than going through awesome footage of powder runs and jumps at the end of the day with a beer or hot drink in hand. And when you're back to reality it's the ultimate tool to tame those inevitable post-holiday blues and show off how much you've improved.
Check out the GoPro Hero5 – the newest member of the GoPro gang.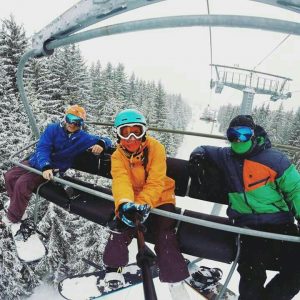 LAPTOP/SMARTPHONE/TABLET
Just because you're on the mountain, doesn't mean you have to be disconnected from the world. For guaranteed entertainment from the airport lounge to the chalet couch, pop your laptop/tablet or smartphone into your luggage and enjoy content tailored to your tastes. Geek up on tutorial videos, what's hot in resort and local events; keep connected to the digital world, friends and family; or play Art of Flight on repeat. Whatever you do, just make sure your Out of Office is switched on and work-brain switched off.  
Watch Art of Flight on those inevitably achy mornings to help you get psyched, up, and out onto the slopes.
YOUR SKIS
A bad skier blames his tools. For the seasoned skier/snowboarder, bringing your own equipment may be pretty tough on the purse strings, but in our opinion, worth it on the slopes. To stay ski-savvy, we recommend shopping around for the cheapest airline deals for adding sports equipment.
For those without their own ski-kit, you'll find many reputable equipment-hire shops and boutiques within each resort. To save the pennies, pre-book online or browse our website to see our equipment-hire discounts, available with our lessons.
Want to get a new pair of skis without breaking the bank? Absolute Snow offer great pre-season deals. Just sayin'.
Hope this inspires. Happy packing.