What does a ski school staff do in summer?
You've probably got a good idea of what our team gets up to on the slopes and around resort during the winter, but what do they do during the rest of the year?
Instructors' yearly migration
Given the love they have for skiing, snow and life in resort, and of course their passion for sharing the whole experience with you, you might think that when the summer comes our instructors go into a kind of inverse hibernation – waiting for the snow to start falling again.
Think again.  
During the northern hemisphere summer, many of our instructors move to the southern hemisphere and continue to work as ski instructors there.
Pamela and Calypso have worked in Argentina, while Raph often works in New Zealand and Australia.
It means they can continue to hone their skills while seeing the world and learning a few new customs.
Multi-talented individuals
But it's not just skiing. Many of our team members have careers alongside their work on the slopes.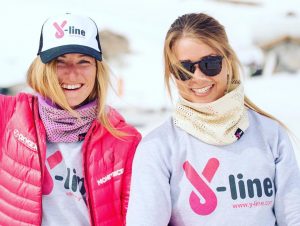 Pamela and Calypso designed, developed and launched their own brand of neck-warmers.
Individually-made, Pamela and Calypso's Y-line neck-warmers really are a must for the snow and are available in our boutique ski shop.
Damian knits beanies with his grandma and sells them in resort during the season. The 'Infamous Dada' range is available in resort during the season.
A flexible office staff
The Oxygène office is buzzing with globe-trotters.
Marion recently spent a summer in Corsica working for Eole Figari, a kiteboarding and windsurfing school.
Corsica's wildlife meant she had some unusual duties alongside maintaining equipment and handling reservations.
"One of my duties was to keep wild boars away from the kitchen. So whenever I heard shuffling in the middle of the night, I knew I was in for an interesting time."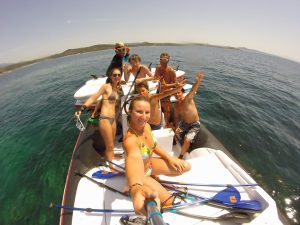 Flying high
Of course, the summer also brings opportunities to pursue other interests.
Raph is a qualified pilot. He takes to the skies during the summer at G1 Aviation. Maurizio tears around the mountains on his motorbike, Marion flies over the sandy beaches with her kitesurf and Damian travels the world with his surfboard.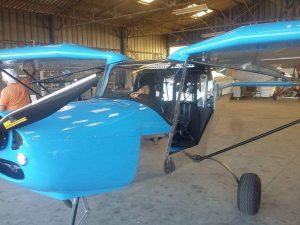 So why not ask your own instructor what they get up to when the season is over? The answer might just surprise you.