Ski resorts have come a long way since their inception back in the 1950s. More than ever, they are multi-activity fun parks on snow. The fun available is no longer limited to strapping things to your feet for the sole purpose of sliding downhill. There are a plethora of activities on offer for young and old, adrenaline junkies and those who prefer more tranquil past times.
Oxygene, like the ski resorts themselves, is more than just a ski school offering traditional ski lessons. In fact, traditional is a word we wouldn't even associate with ourselves. Let us take you on a little tour of our resorts and some of the alternative activities we can offer to give you some different stories to tell when you return home from your ski holiday.
Kids multi-activity sessions
Give your kids the holiday of their dreams. Your children can make the most of their time at our ski school in Megeve with ski lessons in the morning and a variety of activities in the afternoon. On the programme we have: sledging, snowboard taster, cross-country skiing, snow-shoeing, igloo building, chase games, treasure hunts and competitions. They can even have lunch with their new found friends at our popular lunch club. Megeve is sure to be their favourite playground!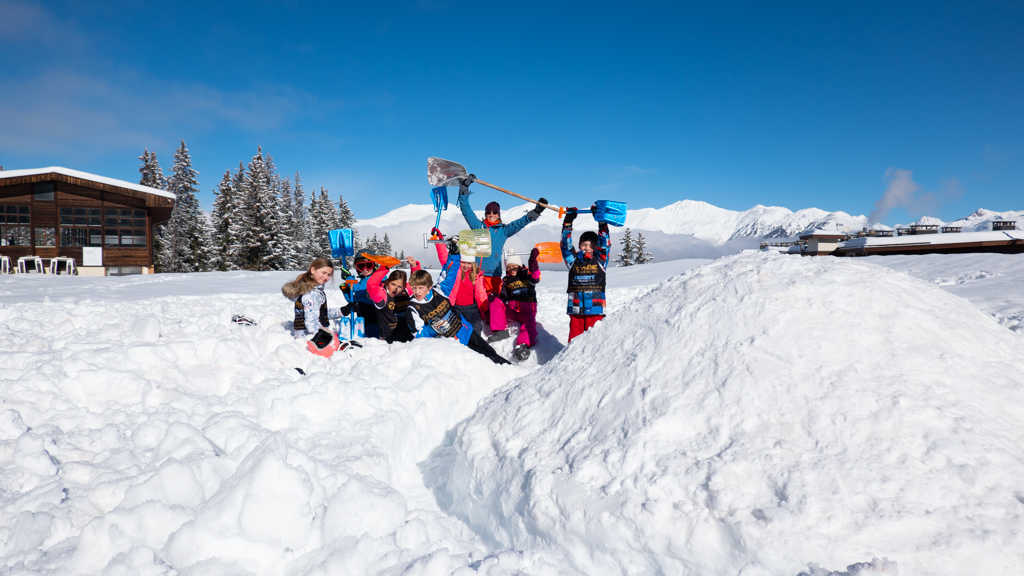 Snow kids activities by Oxygene
Teen Pro Rider Sessions in Meribel
These group sessions are ideal for adrenaline hungry teenagers. Reserved for advanced skiers, they will hit the jumps and boxes in the snowpark, the slalom gates on the race piste and if conditions allow, they will get a taste for powder in the off-piste. All sessions are structured and conducted with safety in mind with a maximum of 6 teens per instructor. Meribel is sure to awaken the senses of these young adults.
Adaptive skiing in Courchevel
Everyone can ski in Courchevel, regardless of their physical ability. Oxygene provide one-to-one sit-ski and stand-up adaptive lessons and provides all the equipment you might need (sit ski, adapted poles, radios etc). Thanks to our in-depth knowledge of the equipment and ski area, we are able to provide you with the best possible approach adapted to your needs to allow you to make the most of your ski holiday. We also offer stand-up adaptive ski lessons. These are for people who can hold themselves upright with decent coordination but who have specific requirements. Whether you're blind, partially sighted, autistic, deaf, an amputee or partially paralysed, we will adapt our lessons so you get to experience the best of the slopes.
Speed Riding in Grand Bornand
If you're an adrenaline junkie then this activity is right up your street. It's a 2 in 1 that combines skiing and paragliding. With skis on your feet and a wing overhead, you'll learn how to jump, fly and slide with style. It really is a completely different way to access and experience the mountain.
Cross-country skiing in La Plagne
Make the most of the tranquility away from the bustling slopes on some of La Plagne's 81km of cross-country trails. Our instructors adapt their teaching to your level and requirements. Whether you want to ski classic or skate style, you're sure to feel on top of the world after this cardio workout. Equipment rental is available from our ski shop in Plagne Centre.
Winter E-biking in Val d'Isère
Electric mountain-biking is not just a summer pursuit. Oxygene in Val d'Isere offers e-biking even in winter. Hit the slopes in the afternoon or evening with one of our new generation e-bikes for a 2 hour assisted ride on the snow. It's a great activity for families or groups of friends.
Paragliding in the Belleville Valley
Fly like a bird! Enjoy the stunning views of the mountains blanketed in snow. Experience the Alps from another angle with a tandem paragliding session. With your skis on your feet and your head in the clouds, our instructor will be sure to provide you with a truly unforgettable experience.
Ski-touring around Serre Chevalier
Ski-touring with Oxygene means getting up close and personal with the true nature of the mountains, leaving the hustle and bustle of the resort behind and making fresh tracks in the powder. With specially adapted equipment (available to rent in resort), you'll strap on your skins and glide up one of our favourite mountain routes. After the effort of climbing comes the reward of descending. Make the most of a descent in the powder and ski the line of your holiday.
Snowboarding for 3-4 year olds
The joy of sliding is open to everyone, whatever their age. In Tignes, we offer snowboarding lessons for 3-4 year olds. It's the opportunity for your little one to give snowboarding a go in a relaxed environment without getting over-tired. We take up to 2 children per group so we can keep a close eye on them and they can learn whilst enjoying themselves. We start with balance games, jumps and gentle gradients, all without being strapped to the board. Then, with their feet attached, the instructor uses the cord attached to the board to help your child progress on gentle slopes and installations.
We hope you are convinced that Oxygene is more than just a ski school. We accompany young and more mature skiers and snowboarders in many snow-based activities to give you an unforgettable holiday experience. Which activity is at the top of your wish list?