The ski instructing world is made up of 80% men.
So it stands to reason that it is a male dominated environment, as with most sports, especially extreme sports. However, here at Oxygène we feel we have a small team of women who rival all the men in this industry. France is somewhat renowned for it's macho attitudes towards women but we think ski instructing in France is one of the best jobs a woman can have.
Indeed, our most celebrated instructor is Sylvia Moser who in her rookie year on the Freeride World Tour., people are queuing around the block to ski with her, not just because of her celebrity status, she's also very smiley, and a bit bonkers. The perfect combo for teaching any level. The boss calls her a safe bet: She can be given any lesson at all and the client will be bursting with enthusiasm at the end of it. He says the same of all his female instructors.
So we know why the boss wants more female instructors but why should more women want to join us?!
1. HUGE DEMAND.
There is a huge demand for female instructors from our clients. We don't like to speculate as to why this is the case, but the up-shot is that there is a lot of money to be made based on client requests. Our female instructors are as much in demand, if not more so than the male instructors at all levels.
2. EQUAL PAY.
Everyone is paid equally and according to their qualifications. Experience, level of skiing and gender are utterly irrelevant.
3. FAMILY-LIFE LEXIBILITY.
It is one of the few professions which will work around a family life. Many women will decide to have kids at some point and although there is a limit to how long one can ski whilst pregnant, mum's are able to pick and choose when and how and who they work with. Ski schools are perhaps the most flexible employers ever!
4. NO ONE THINKS BOYS ARE BETTER THAN GIRLS!
After many years of racing, most people expect there to be a pecking order in a ski school around who is better than who. There just isn't. Mainly because we spend so much time teaching and concentrating on crunching the hours. Being a girl makes no difference AT ALL to how you ski or how your colleagues see you.
5. NO COMPROMISING NECCESSARY.
Most sporty women will have a certain desire to continue to work in a sporting environment to keep fit and earn good money for their skills. Not many jobs offer the physical activity, an outdoor working environment and the great pay that ski instructing in France does.

6. FEMALE INSTRUCTORS CAN STILL BE EXTREMELY GLAMOROUS.
Just look at Andy Nerrant! Ski Instructor for over 40 years and she still has it. Ski instructing, femininity and glamour can be combined beautifully!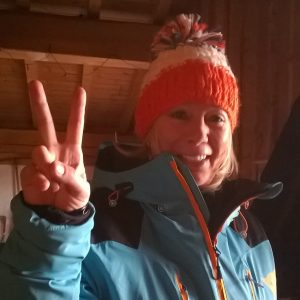 If you are interested in becoming a ski instructor, check out our Academy Page and download our Academy application form for 2015-16 season!
By Jenny Yates
[bluebox tag_line='YOU CAN ALSO SIGN UP TO OUR MONTHLY EMAIL NEWSLETTER!']
GET THE LATEST FROM US ON FACEBOOK OR TWITTER.
[/bluebox]
[tagline button_text='Get in touch!' button_link='https://oxygene-ski.com/en/contact/'] Have a question? We'd love to hear from you. [/tagline]