A weeks holiday in Val d'Isère
I would like to take you on a journey, and describe the joys a weeks holiday in Val d'Isere can bring and help you to understand why it is consistently rated as one of the top resorts in the world!
Val d'Isere is at the heart of the Tarentaise valley and with Tignes on the other side of a ridge, the Espace Killy is only two and a half hours away from Geneva Airport and a mere 90 minutes from Chambery (readers be warned; choosing Chambery as an airport simply because of its proximity to the mountains should be made in the context of this photo, which was taken during a particularly delayed transfer day.)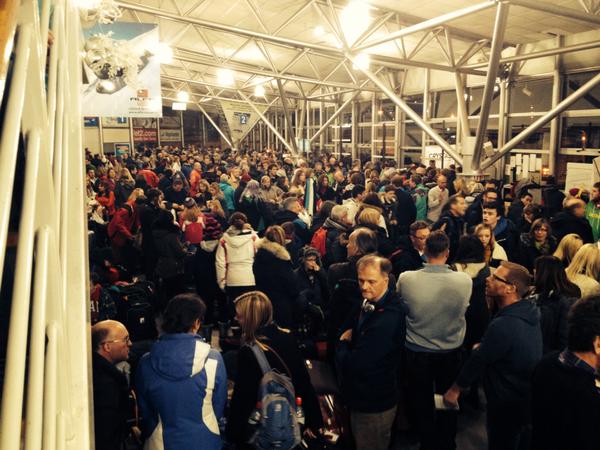 The Pistes – You have arrived in resort for the first time and after passing the impressive Dam built between 1948 and 1952 have arrived in resort. Your journey will have taken you up through the hamlet of La Daille before arriving in Val d'Isere Centre, if you continued along the main road you would pass through another small village called Laisanant before arriving in Le Fornet, the last of the Val d'Isere resort stations. All these stations have chairs or telecabines that connect you with the vast Espace Killy ski area. They are also linked by the free Navettes service which runs every five minutes during the day and a more spread out service well into the night. This bus service is the backbone of the resort and is a vital part of the well reknowned lift system. The Espace Killy has nearly 300km of pistes and is supported by 96 lifts which in total can carry nearly 150,000 people per hour!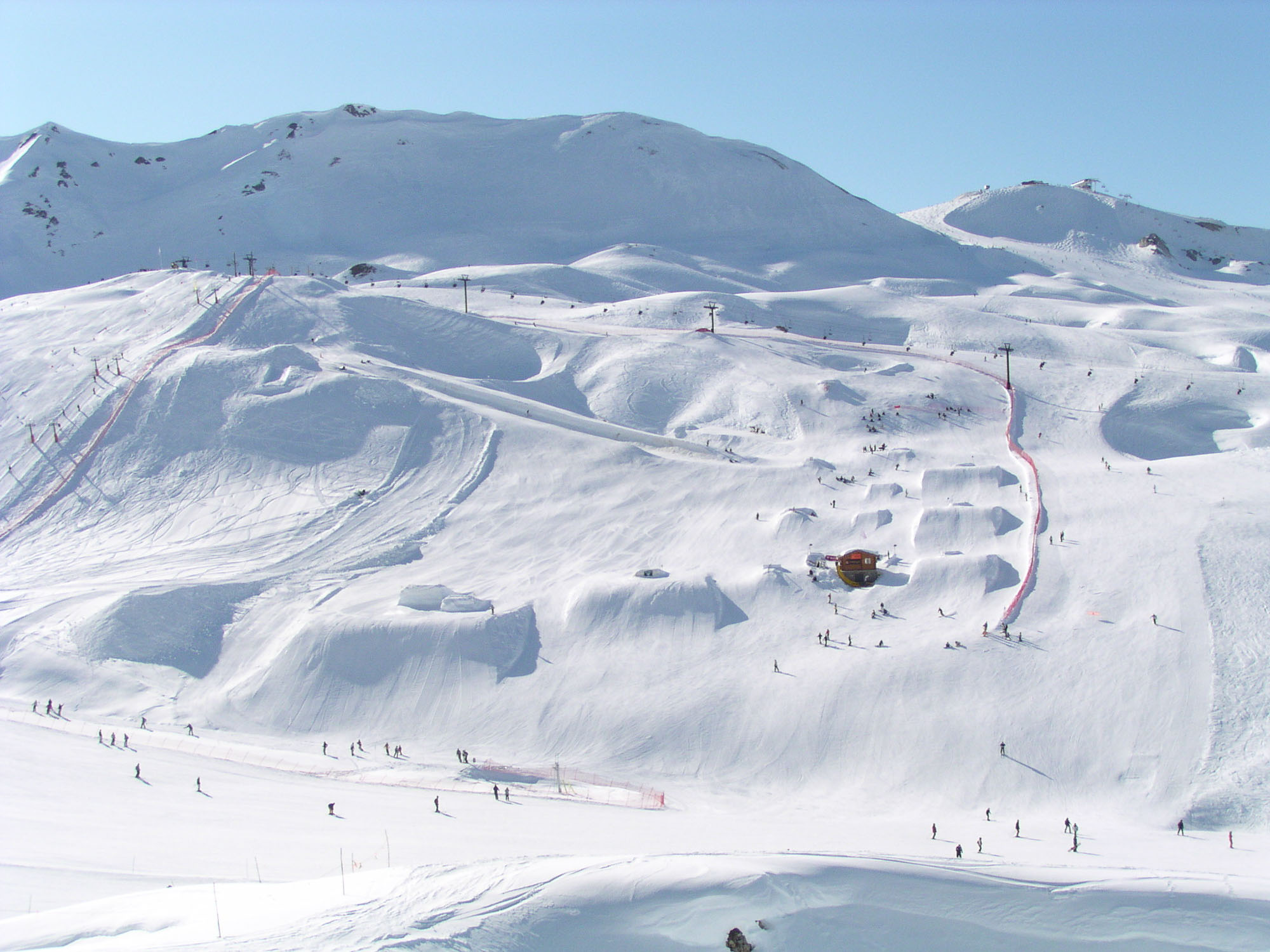 The Off-Piste – Oh, and there's 10,000 Hectares of off piste. Thats 100km. Combined with the on piste runs, the ski area is bigger than Whistler! Whereas in Whistler, to access its legendary off-piste you'll need to be able to afford a helicopter, a pilot and someone crazy enough to go with you. In Val d'Isere the off-piste terrain is accessible with a knowledgable guide and the correct equipment (helpful hint: at Oxygène we have plenty of both and they are all included in the price!). From dropping into the trees by Fornet to experiencing Le Tour Du Charvet, there is enough accessible off piste for you to keep you smiling long after your tired legs have decided that they have had enough.
The Food – I am not a "foody". I am something less discerning or critical. I am a glutton. And in Val d'Isere, I am in paradise… There is a beauty to the town of Val d'Isere and the surrounding ski area that is translated into the cuisine available here, from the bountiful Savoyard (from the old Gaelic word, meaning "of course you should add more cheese, where are we? Germany?") style restaurants such as La Casserole and La Corniche, to the Italian Chez Nano and Chez Paulo, sampling the tucked away treasures of Le 1789 and L'Arbre de Vie, moving via the Michelin star rated La Table de l'Ours and L'Atelier du Monde before finally finishing with a Moris burger (and the obligatory 1080!). There is something for every pallet, budget and taste here with a plethora of culninary delights to whet your appetite. Food in Val d'Isere is treated as a celebration, not a necessity!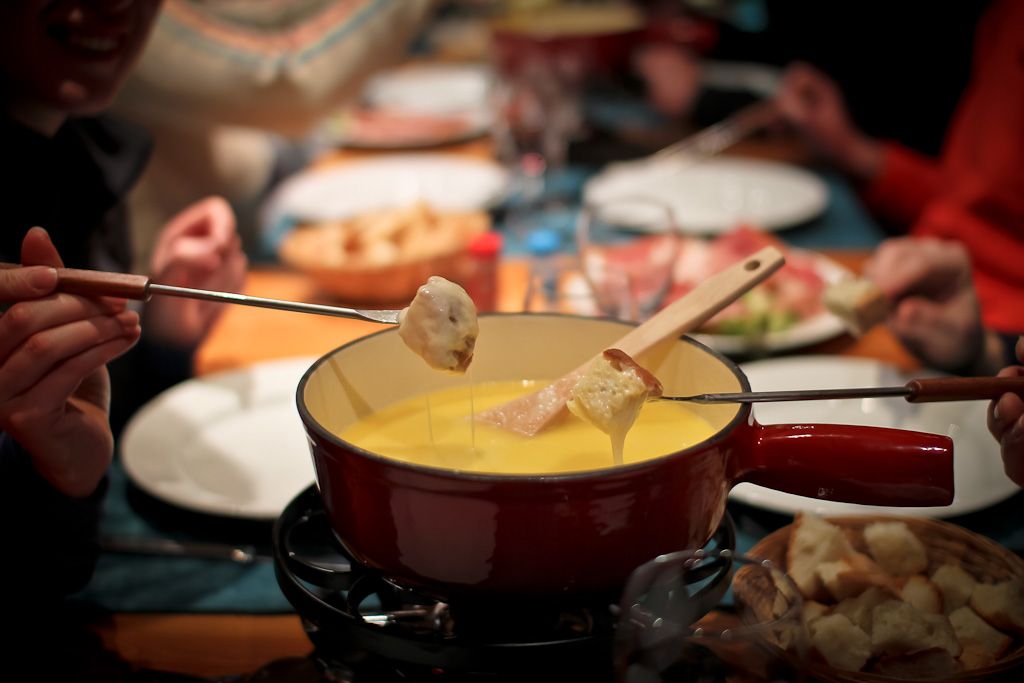 The Nightlife – Austria, this is not. This is Val d'Isère. The nightlife in Val d'Isere is like the food, there's something for everyone! Reputations are built in Val d'Isere and the bars and clubs are no different. The British market will be more than aware of The Moris Pub and Dicks T Bar and the french local hotspots of Coin Des Amis and Chez Boubou are never empty during après-ski shenanigans. If you like Scandinavian traditions of dancing (on tables) and drinking (good beer), then Petite Danois is a must visit, just accept that you may never leave… The après ski available in Val d'Isere is part of what keeps guests coming back year after year, the Folie Douce bar on slopes above La Daille is often the first name on the lips of first timers looking for a recommendation of where to relax and unwind after a long days skiing. Bumping into old friends and making new ones is all part of the charm of a resort with a very strong community of both seasonairres and residents of many nationalities.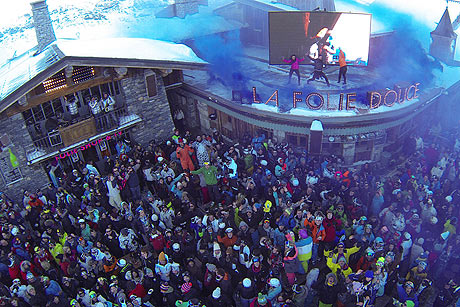 The Events – The Winter Calendar in Val d'Isere lists a variety of international competitions and global attractions. The season kicks off with the Criterium de la Premiere Neige, a FIS World Cup event held at the beginning of the season to celebrate the first snow in December. Then throughout the season you have one off events such as the Dynastar Night Ski Slalom, The Frostgun Invitational competition which moved here from Val Thorens last year to great success and Classicval; a celebration of Classical Music in Val d'Isere. There are also the weekly attractions such as the tours around Val d'Isere old town and the Airstar Night Light where the main street is closed off and the après takes to the streets every Thursday with live music and a parade. In May, for the close of the slopes we have a three day Yoga festival as part of a celebration of wellness. There's also the small matter of the Step Up: For Africa, a charity kicker competition that anyone can enter and the British Championships (BRITS) which take place in Tignes during March.
OK, so all that is a lot to take in… As you can see, there is plenty to love about Val d'Isere as it caters to all kinds of tastes and holiday motivations. Whether you're here to ski, party or both, there's something for everyone here in a lively environment where long lasting friendships are made.