The lack of snow in the French Alps has hit the headlines
While some locals claim it has been the worst snow conditions for over 40 years, and with snowfall forecasts changing daily, keeping track of what is really going on can be challenging.
Here is a quick breakdown to help you make sense of how Oxygène in la Plagne & Val d'Isère are dealing with this.
To this date, only 74 out of 200 ski resorts are open in France. When some of France's best known mountains remain closed, La Plagne & Val d'Isère advertise as 'snow sure' resorts. The start of this season was their chance to prove themselves by opening the resorts to skiers on planned dates.
You may be wondering how come la Plagne & Val d'Isère are so white? With the mild autumn we had, we anticipated a lack of natural snowfall, so the resorts produced artificial snow – 75 thousand cubic meters were created on the night 6th to 7th December, I'll let you imagine how much more has been produced since then.
Here below is a photo taken by one of our instructors yesterday.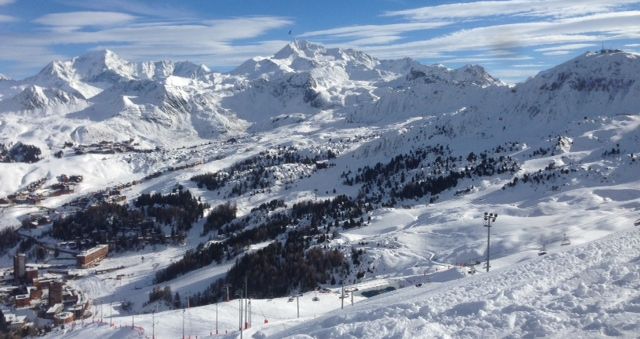 We had a difficult start of season and could only opened 9 slopes last week, but with Wednesday's 6.5 inches snowfall, la Plagne & Val d'Isère are now covered with the white stuff. This explains why this week, 50 lifts are open in la Plagne.
'Despite a difficult start of season, there is still good skiing. All la Plagnes care and attention went into the opening slopes and therefore they have good snow' spokeswoman for la Plagne said. Luckily for Oxygène, our ski schools are located in high altitude resorts and therefore are able to ensure snow coverage. Dorian, one of our ski instructors said: 'I'm just glad to be working, I'm originally from the Southern Alps and most of my friends are out of work'
Oxygène's phone doesn't stop ringing with bookings. Skiers are coming from all over France to high altitude resorts as they are guaranteed to find good quality snow. Last week la Plagne expected 5 000 skiers, this week we are expecting 30 000!
And for those who still aren't convinced by the amount of snow check out our webcams in la Plagne and Val d'Isère