Get ski fitted in your chalet…
You have, finally, arrived in resort. The trip to the airport was early. The flight was delayed. The children are, despite your best parenting skills, still children. The prospect of taking the family to a ski hire shop tonight to ensure skiing first thing tomorrow morning is, at best, harrowing…
Thankfully, Oxygene in Val d'Isère have the answer! Where most ski shops have shut at 8pm, Nick Davies (Chalet Fit Manager) and his highly skilled team can be found roaming the resort delivering high quality skis, boots and poles at a time that suits the customer. No matter how late!
"We have been known to still be delivering skis to chalets after midnight for guests… I'm fortunate to be paid by the hour," says Nick with a wink, "but it is the best way to strike the balance between providing excellent customer service and being as unobtrusive to a guest's holiday as possible."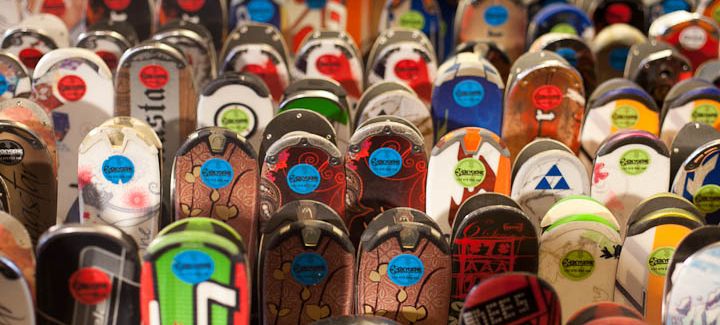 All the guest has to do is submit the relevant information such as skiing level, shoe size, weight and where relevant, age in advance via a form. The resort chalet fitting team can then prepare the fit which consists of two parts; the boot fitting and the ski fitting. The boot fitting is done in the chalet (principally the boot room), with a minimum of two pairs being brought to the chalet for each guest to try in the size that they previously provided.
"If the boots we bring for the customer don't fit, we can easily return to the shop to find a pair that will whilst the rest of the guests are being fitted. The aim is to take as much hassle away from the fitting experience as possible."
After the guests' boots have been fitted they will be asked what type of ski they would prefer according to their level and experience. "We are fortunate to have a fantastic range of skis available. The quality of our ski hire is something that Pierre (Oxygène owner) takes very seriously, the oldest equipment we have for chalet fitting is no more than a season old and we buy in new stock every year all the way to top of the range Prestige skis."
"With the rate at which skiing technology changes, variety is key. That's why all our skis are interchangeable should a customer wish to try something new, be it carving skis for the piste or twin tips for the park." Skis are selected from the stock based on the guests' preferences and their previous skiing experience and are then delivered, labelled with the guests name, to the chalet boot room without disturbing the guests unnecessarily. Our chalet fit team will happily bring a change of equipment to the chalet within the first 24 hours to ensure that the guest gets the maximum out of their holiday.
At Oxygene, we pride ourselves on offering outstanding customer service in all aspects of our business, be it Ski School, Ski Hire or our Chalet Fitting Service. We are at your service whenever and wherever you require it.