OUR TOP TIPS FOR A SMOOTH START.
We know that the first day of ski school is an important one for you and your child(ren). As well as the general stress of getting you and your family to resort you now have to contend with the ups and downs of ski school. But fear not, we've thought of everything. Follow our advice to ensure that the first day at ski school is a good one, for you and your little one(s).

© Rémi NGuyen Cao
THE RIGHT TOOLS FOR THE JOB
Don't be blasé about the weather conditions in the mountains when dressing your child(ren). Ensure you put them in technical base layers – leggings and a long-sleeved top in either a wool or a synthetic material (not cotton!) Protect their toes with a pair of ski specific socks and their hands with warm waterproof gloves. For little ones, mittens are better as they are warmer and easier to put on. Finally, a buff or scarf will keep the wind out and a helmet and googles will provide the ultimate protection required.
ALWAYS WEAR SUNCREAM
As Baz Luhrmann advised the class of '97, 'If I could offer you only one tip for the future, sunscreen would be it'. Two decades on and the dangers of UV rays are as relevant as ever. Despite what many may believe, you are still at risk of UV skin damage during a white out and cloud cover.  
Avoid exposing unprotected skin while out and about or on the slopes. According to a Japanese study, UV rays are 2.5 times stronger on the snow than they are on a beach. Because they scatter and reflect on the bright white snow, they can cause considerable damage to the skin and eyes.
To avoid skin damage, sun stroke or cataracts, frequently apply plenty of high-factor suncream (50+ for the kids), cover up with neck and face warmers and don't forget those goggles.

© Rémi NGuyen Cao
ALLOW EXTRA TIME
So you've booked the lessons, got the gear and are prepped and ready for ski school. Great. Now it's time to take your tribe to the meeting point.
Avoid leaving at the last minute to find yourself 30 minutes late. It's stressful for you and the instructor, not to mention costly as you could miss out on the lesson you have spent good money on. But don't worry, we understand that life gets in the way sometimes, so if you do get stuck, just give us a call and we'll do our best to help you.
Always check where the meeting point is prior to your child's first lesson. There's plenty of information about how to find us on our website.
Psst: No internet? No problem. Our booking team knows the resorts inside out, so feel free to check-in with them with any questions the day before.
WHEN NATURE CALLS
When nature calls, our instructors are on hand to fully-supervise your child's mid-lesson pee break. And thanks to over 25 years' of potty pit-stop experience, we now realise the importance of 'pull-on' ski pants.

Avoid onesies at all costs for little ones. Yes, they're adorable, but taking them off allows very little time for error if they're desperate for the loo and lots more faff (especially in a tiny toilet cubicle the size of a stamp). Choose high-quality ski pants and a jacket instead.

Psst: To stay extra dry and provide greater comfort, look for ski pants or salopettes that have a waterproof rating of at least 5,000m.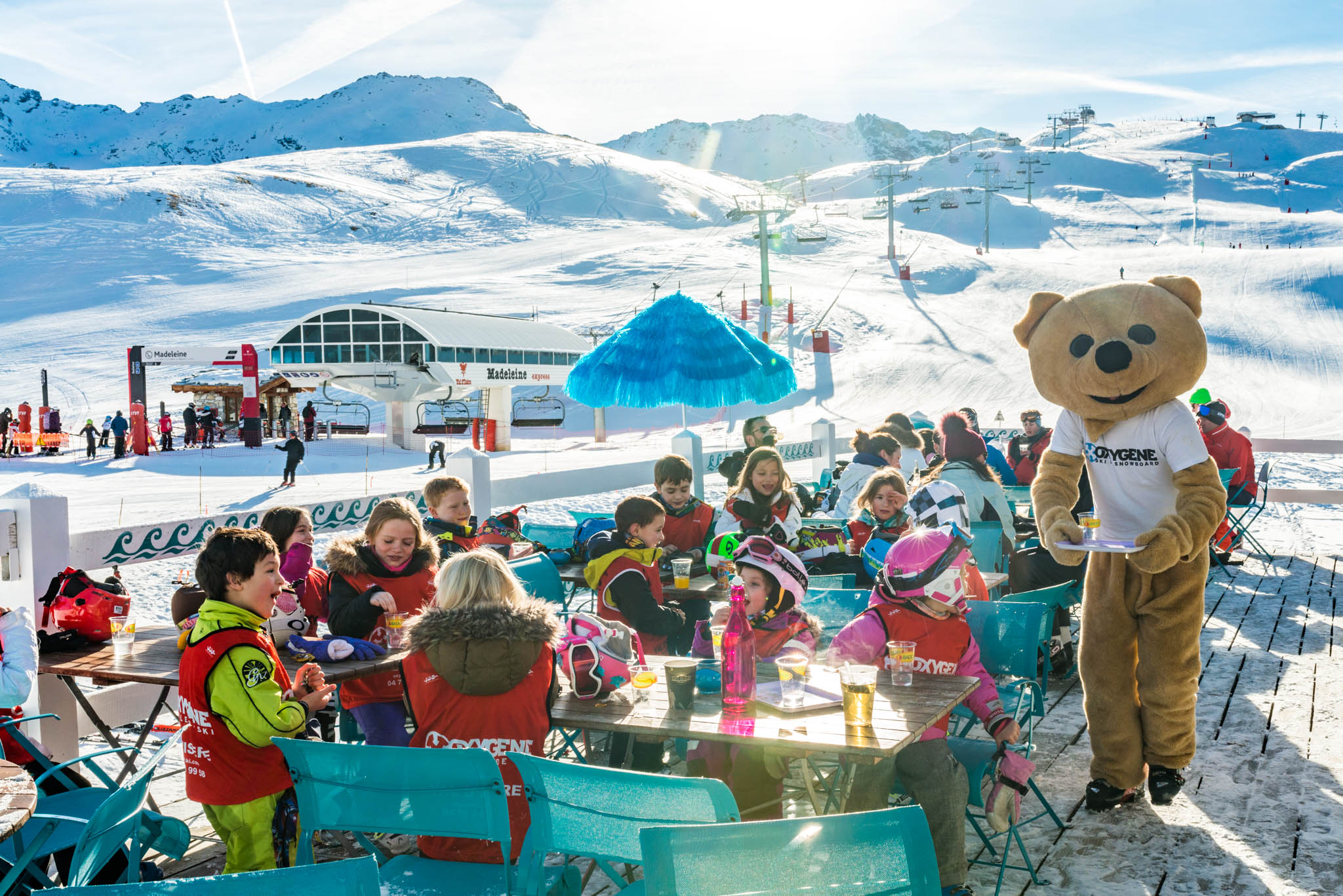 © Rémi NGuyen Cao
SNACK TIME
We all know that skiing is a physically strenuous activity that requires a great deal of energy, concentration and stamina. And, if improperly managed, low blood sugar levels can cause a drop in heart rate, body temperature and concentration; leaving you with a very cold, uncomfortable and unhappy tribe. So, in order to keep them on top and ready to reach each peak, ensure that their blood sugar levels are stabilised by consuming enough food and drink before, during and after their ski.
Avoid "they've had breakfast so they'll be alright". Learning a new activity while subjected to the elements means that their bodies will need to be fueled more regularly than back at home.
To keep your little one happy and healthy on the slopes, ensure that their slope-snacks include plenty of carbohydrates and protein, which allows their muscles to recover, helps maintain immune health and keeps energy levels balanced. Say yes to high-energy snacks, including a chocolate or cereal bar in each pocket.
And don't worry, when it comes to warding off dehydration, we have it covered for you. As dehydration leads to lethargy and decreased concentration, which can be dangerous on the mountain, our instructors continuously check that your child has more than enough H2O to see them throughout the day.
Psst: Our children's lessons include short snack breaks to ensure that the kids are fed and remain adequately hydrated throughout the day. Forgot about lunch? Why not check out our lunch clubs and available options in resort.
So, that's a wrap. Here's to the best first day at ski school, from the Oxygene team.