The best strategies for keeping warm on the ski slopes.
Polar vortex and Siberian winds. Skiers and snowboarders in the French Alps take heed! These weather warnings are an indication of very cold temperatures on the slopes. Here are our top tips for keeping warm whilst skiing and snowboarding.
It's all in the preparation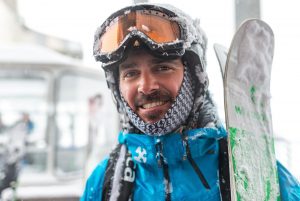 The cold penetrates your extremities first so think about warming up your boots and gloves before you leave your holiday accommodation. Many chalets and hotels have heated boot racks so make use of them.
Dress for warmth and layer up. Remember that wearing three thinner layers is more effective than wearing one thick layer as warm insulating air gets trapped between the layers keeping you warmer. Wear a woolen layer – have you ever seen a cold sheep? Wool is insulating even when damp and has wicking qualities so is the perfect base layer.  A good layering strategy will make more difference to your warmth and comfort than one huge jacket. Let us explain why…
Keep your pulse points warm, particularly your neck and wrists as you can lose more heat from these areas. A warm buff or scarf will do the job as will wearing any good ski gloves. Lots of jackets come with wrist cuffs that hook over thumbs to keep the draught out.
Here is our 'must have' kit list starting from the top:
For your head: a helmet with warm padding and a thin balaclava or buff to wear under your helmet and ski goggles (rather than sunglasses)
For your neck: a scarf or buff
For your body: a merino wool base layer, a thin mid-layer, a thin pullover top layer, a warm and waterproof jacket, long-johns (¾ length are best for skiing and snowboarding so they don't ruckle inside your ski or snowboard boots) and warm ski pants or salopettes
For your hands: thin liner-gloves (optional) and insulated waterproof gloves
For your feet: one pair of long warm socks with a good percentage of wool in them and your pre-warmed ski or snowboard boots
Hand and boot warmers can feel heaven-sent to warm your extremities too. Reusable ones are available that you reset by warming them in a pan of boiling water for a few minutes. Pop them in your pockets and when needed click the 'clicker' inside them to activate them.
On the slopes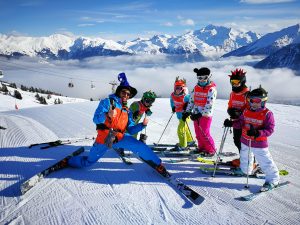 Keep yourself moving to keep warm but pace yourself. Sweat is a cooling agent so you want to try to avoid sweating if you can. Plan your route to make the most of the gondolas and covered chair lifts rather than the more exposed open chair lifts. Eat high fat snacks such as nuts, chocolate and cheese. These slow burning fuels will keep your energy up for longer. Take rest stops in sunny spots to make the most of the warmth of the sun. Keep yourself well hydrated. Your body is more effective at circulating blood and keeping you warm if you keep your (non-alcoholic) fluid levels up. And whilst we're here, try to lay off the booze which can have the effect of decreasing your core body temperature.
Avoiding frostnip (and frostbite)
Frostnip is red or sore skin as a result of cold temperatures. Frostbite can then follow, the early stages of which include yellowish/white skin that stings, tingles or goes numb. Frostnip can be prevented by following our advice above and keeping your core and extremities warm. In cold wind and extremely cold temperatures (below -10C) it is worth keeping your cheeks and tip of your nose covered. This can be achieved simply by pulling your buff up to your goggles or by investing in a ski facemask like those from Canadian company Airhole (other facemasks are available).
What are you waiting for? Simply follow our advice, stay toasty warm and enjoy the beautiful snow conditions on the slopes this winter.