#WomenWhoRide #InternationalWomensDay #InspiringLadies
"She's the man!" Yes, some of our female snowboard instructors are real daredevils, whether they're skiing or snowboarding. For International Women Day on March 8th, we would like to give a big shout out to all these girls, women and rider ladies who aren't afraid of riding and falling hard. You can also read articles about our Ladies' Only ski lessons and Girlpow(d)er: a freerider's profile. Check out these profiles of some of our top female instructors.
Alice in wonder(snow)land
Alice started snowboarding at the age of 7, encouraged by her parents, die-hard boarders. At this time, most riders were still using flat bindings combined with ski boots, remember? They weren't as comfy as today's snowboarding boots, but that's what she first hit the slopes with, about 20 years ago. After years and years of shredding in Italy, she is now teaching in Val d'isère, the place she now proudly calls home.
Last week, with the great snowfalls and sun hitting the slopes early morning, she woke up early to make the most of the good snow. Here is a video of one of her off piste sessions, accompanied by some other Oxygène ski and snowboard instructors. Making a few turns (albeit for a couple of hours) really put a smile on her face.
Noémie, the New Oxygène Face in the Freeride Circuit
Noémie Lemaire (AKA Nono) is a freerider at heart. Full of energy and with an iron will, she has found her first official sponsor after only one year of competing in the Freeride World Qualifier. Oxygene Ski School is proud to support this great inspiring freerider to help her reach her goals.
Although she's not a snowboarder, we still wanted to give her a shout out in this article, because we believe in her as a #WomenWhoRide icon, she is a girl to look up to. Noemie is a free spirit who knows what she wants and we can't speak more highly about her. Thanks to her, "riding like a girl" is given a positive spin. Want to know more about Noemie, read her story, and stay tuned for her Freeride competition results.
Vittoria, World-wide Rider (try and say that quickly!) in La Plagne
Originally from Toscana, Italy, Vittoria has been teaching snowboarding throughout the world, from California to Japan and has ended up teaching in La Plagne with Oxygène. The Paradiski domain is one of her favourite ski areas, for its size and diversity. "For a beginner snowboard class, I usually go on Boulevard slope, then Bergerie and Colorado and finish the week on Kamikaze red slope, which, as its name doesn't suggest, is perfect to finish a beginner week on a high note. When I teach more experienced snowboarders and we have got time, I usually take them to Les Arcs for a long day on the slopes. Paradiski is also renowned for its accessible and safe freeride areas, close to the slopes, especially in the forest. It is ideal to initiate my riders to off piste snowboarding." When she teaches teenagers, she enjoys taking them to the snowpark to show them a few freestyle tricks such as 360s or grabs on the jumps and boxes.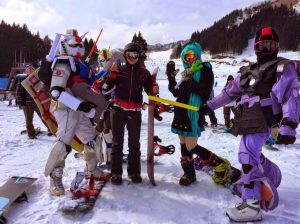 As Vittoria wanted to share: "In Japan I worked in Hakuba (in the Nagano region, where the Olympic Winter Games took place in 1998). I was on a freeriding session with some Japanese people in the middle of the forest where we stopped for a little snack. They started taking out of their bags little wooden boxes (bentos) containing sushis, sashimis, seeds and seaweed. A 5-star-snack in the snowy woods in Japan: an unexpected yet memorable experience!"
Eleonora, the Courchevel Half-pipe Queen
In the freestyle corner, we would like to introduce you to Eleonora, snowboard instructor in Courchevel. If you ski in the Three Valleys, you are most likely to cross her path in the DC Area 43 Méribel snowpark, or in the Family Park in Courchevel 1850. She has been snowboarding for the last 10 years and is passionate about the half-pipe. "Leaving the ground, feeling the air, being like a snowflake suspended in the air for a few seconds before falling down the pipe is an incredible sensation. It is a pretty technical discipline, you have to choose your line carefully, take the right edge and not hesitate to gather speed and go high."
In her mother ski resort, Claviere, Italy, Eleonora initially started snowboarding at the age of 10. When she turned 16, she joined the snowboarding club and started competing in the Campionati Italiani Half-Pipe FSI, and then following this path, she became a snowboard instructor in 2014. Snowboarding and teaching are her main priorities in life, and what she lives for. "When I teach total beginners, I get to start from scratch, teaching them the basics such as how to balance and turn in order to get the first feelings of sliding and speeding. Then, my favourite part is that I get to see their progress throughout the week. They take pride in improving their technique and I'm proud of having been part of this progression." Ele teaches in Courchevel 1850, if you would like to try yourself at freestyle or half-pipe, or even going for an offpiste session between the trees of the Col de la Loze, Eleonora with her high spirit, large smile and willingness will take you to the next step of snowboarding.
Charlotte, the Forever Committed Outdoor Girl in Val d'Isère
Charlotte knows Val d'Isère and its slopes like the back of her hand, she has been teaching ski and snowboard there for over 10 years. She loves taking on the Ladies' Only ski lessons as well as advanced skiers and snowboarders. She shares her passion for snowsports with her usual patience, enthusiasm and delicacy. However, when she is out on the slopes in her own time, her femininity in addition to her strength and willingness, takes her to the top of the mountains where she will then fly down.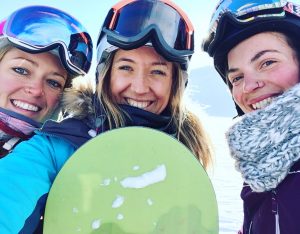 Often out ski touring to make the most of the fresh powder, whenever she tightens up her snowboard boots, it is not to go carving on slopes or to hit the slalom gates, but to go to remote places. Ungroomed slopes and steep forests are her favourite playground. After years of ski competitions in her early teens, she turned to snowboarding thanks to her brother, who, at that time, was a professional coach at the snowboarding club in Serre Chevalier in the Southern Alps.
You are most likely to cross Charlotte's path if you seek remote places like she does. She and her husband Adrien, also an instructor at Oxygène ski and snowboard school, are far from lazy skiers, they make the most of every day of the winter in Val d'Isère to go hiking up and speeding down the slopes of Val d'Isère and Tignes.
All these gorgeous and strong ladies are available to show you around our most beautiful ski areas… what on earth are you waiting for?! Let yourself be inspired by one of our female instructors.
Contact our Oxygène office to book a snowboard lesson with us today.
Text and Videos: Marion Clerc (another riding lady)